OPQ war der erste Persönlichkeitstest,
der speziell auf die Arbeitswelt abgestimmt war.
Das OPQ-Assessment ist von mehr als 15 Millionen Kandidaten weltweit durchgeführt worden. Der OPQ ist heute eines von mehreren Instrumenten, mit denen wir Unternehmen und deren Mitarbeitern helfen, ihr Potenzial zu erkennen und zu nutzen.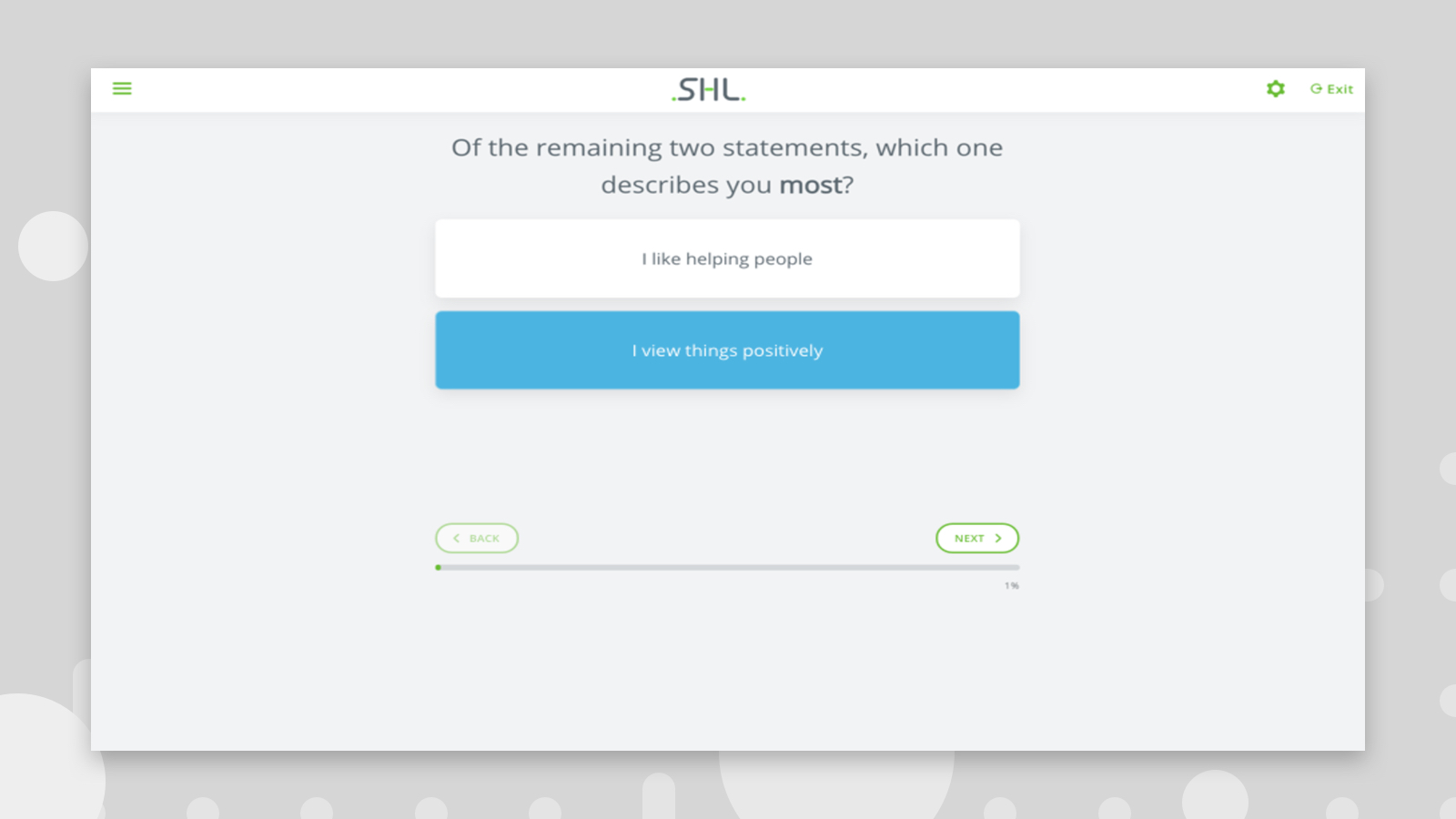 Beispielfrage aus unserem OPQ Fragebogen
Im Jahr 1984 hat SHL mit dem OPQ den weltweit ersten Persönlichkeitsfragebogen auf den Markt gebracht, der sich mit der Arbeitswelt befasste. Ziel war es, ein objektives Tool zu entwickeln, das es Unternehmen ermöglicht zu verstehen, wie sich Aspekte des Verhaltensstils einer Person auf deren Leistung am Arbeitsplatz auswirken.
Mit dem OPQ konnten wir dem Markt zwei Dinge bieten: Zuverlässigkeit und Aussagekraft. Ein validierter Prozess aus Forschung, Analyse und Überprüfung sorgt dafür, dass unsere wissenschaftlichen Erkenntnisse kontinuierlich auf Korrektheit geprüft werden – das unterscheidet die Assessment-Tools von SHL von denen anderer Anbieter.
Im Laufe der Zeit hat sich der OPQ natürlich mit den Änderungen der Arbeitswelt mitentwickelt. So ist und bleibt dieses Tool nach wie vor eines der am meisten genutzten und anerkanntesten psychometrischen Messinstrumente der Welt. Das OPQ-Assessment ist mittlerweile von mehr als 15 Millionen Kandidaten weltweit absolviert worden.
Heute ist unser OPQ-Test nur eines von vielen Tools, die genutzt werden können, um objektive, detaillierte Informationen über das Verhalten von Menschen am Arbeitsplatz, deren voraussichtliche Leistungen in konkreten Arbeitsumgebungen, deren Teamfähigkeit und deren Eignung für bestimmte Rollen zu prognostizieren.
A great deal of research underpins our solutions, which has resulted in a market-leading suite of tools that enable businesses all over the world to recruit and manage talent in the most effective way.
Als führender weltweiter Anbieter von Assessments im beruflichen Umfeld ist es für uns eine Selbstverständlichkeit, dass unsere Lösungen strengsten internen und externen Evaluierungen unterzogen werden. Getreu unserer Tradition als innovativer Anbieter, der bei Verlässlichkeit und Aussagekraft keinerlei Abstriche macht, haben wir eine Suite hochwertiger Assessment-Tools auf den Markt gebracht, die unter anderem die folgenden Qualitäten messen, die für den Erfolg im Beruf besonders wichtig sind:
Fähigkeit
Verhalten
Persönlichkeit
Durch unsere sorgfältige Analyse und Investitionen werden wir auch in Zukunft im Bereich objektiver Assessments neue Standards setzen. Mit unseren Lösungen können Unternehmen Zeit und Geld sparen und gleichzeitig souveräne, auf Daten basierende Entscheidungen treffen, die die Produktivität ihrer Mitarbeiter auf allen Ebenen erhöhen.