In the fifth Edition of NER, Aspiring Minds, now SHL, finds that the employability of Indian engineers has not changed on an aggregate level since 2010 – we call it 'Stubborn Unemployability'. This calls for systemic long-term changes in higher education in India. Furthermore, the The National Employability Report compared the skills of Indian engineers with those in other countries and also looked into whether Indian engineers are acquiring new-age skills in areas like AI, mobile, cloud, and web. In a first, the report looks quantitatively into the reasons for low employability and makes detailed recommendations for change.
Only 3.84% of engineers are employable in software-related jobs at start-ups.
Around 3% of engineers possess new-age skills in areas such as AI, Machine Learning, Data engineering and Mobile technologies. On an aggregate level, employability in these areas is around 1.5-1.7%.
The US has a much higher proportion of engineers, almost four times, who have good programming skills as compared to India.
A much higher percentage of Indian engineers (37.7%) cannot write error-free code, as compared to China (10.35%).
Only 40% of engineering graduates end up doing an internship and 36% do any projects beyond coursework.
About National Employability Report
SHL's National Employability Report is the gold standard in tracking the quality of Higher Education in India since it was first launched in 2010. NER-2019 is based on the study of data collated from 3 million annual AMCAT assessments that are conducted globally. The report follows the highest standards of scientific methods, research, and analysis to provide a credible data-based understanding of India's higher education and employability ecosystem.
Download Report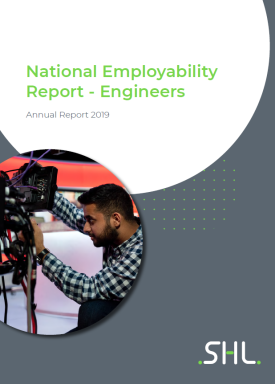 To read more about the findings and recommendations of the National Employability Report for Engineers, 2019, press the download button and complete the form.
Download
Make Transformation Possible for Your People
Experience the greatest business outcomes possible with SHL's products, insights, experiences, and services.
Explore SHL's Wide Range of Solutions
With our platform of pre-configured talent acquisition and talent management solutions, maximize the potential of your company's greatest asset—your people.