Le questionnaire OPQ est le premier test de personnalité spécialement conçu pour le monde du travail.
Plus de 15 millions de candidats dans le monde ont complété un assessment OPQ. Aujourd'hui, le questionnaire OPQ est l'un des outils que nous utilisons pour aider les entreprises et leurs collaborateurs à réaliser leur potentiel.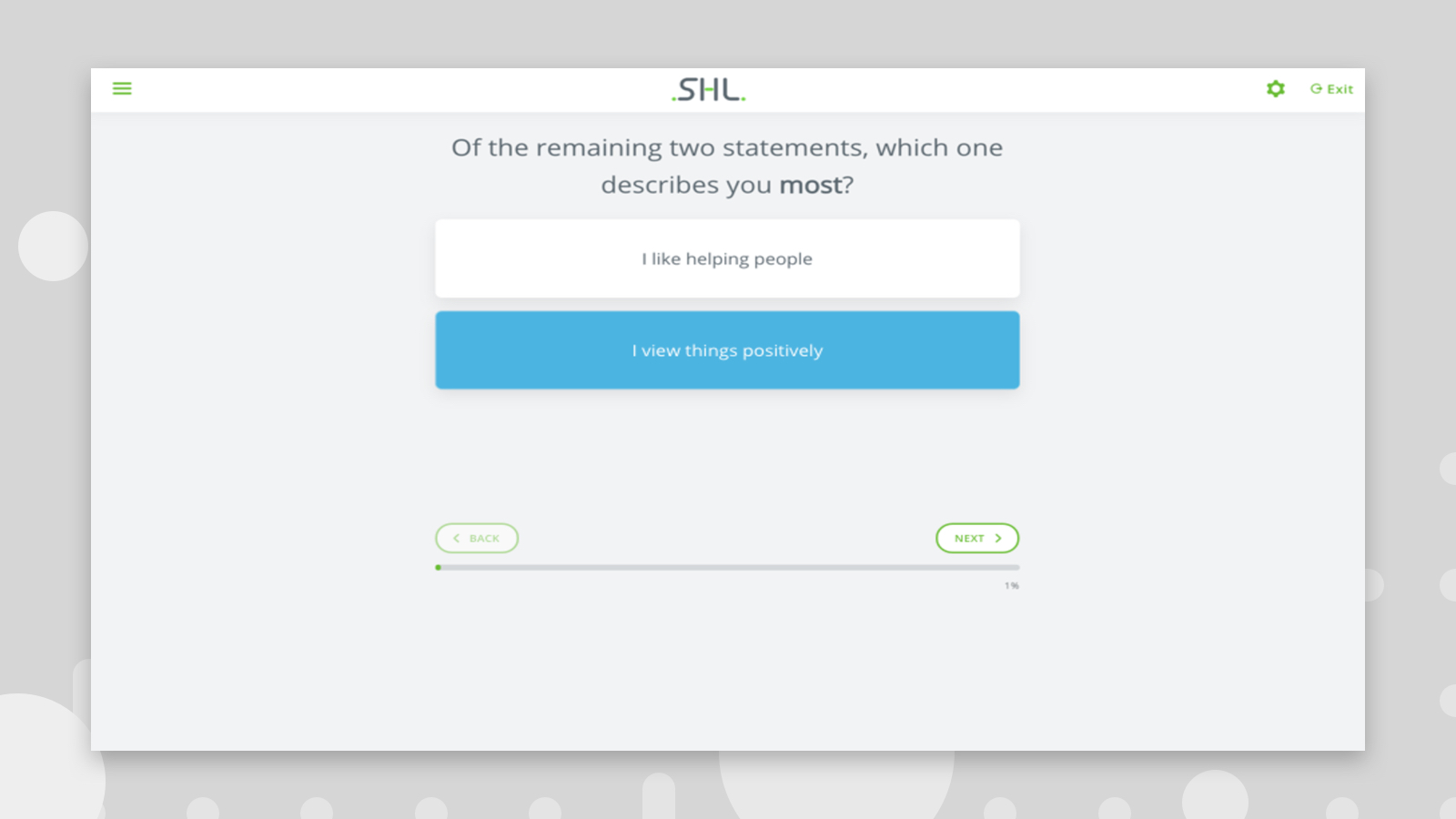 Example Question from the OPQ
En 1984, SHL a lancé OPQ : le premier assessment de personnalité au monde conçu pour le lieu de travail. Notre vision reposait sur le développement d'un outil objectif qui permettrait aux entreprises de comprendre comment les différents aspects du style de comportement d'une personne influent sa performance au travail.
Avec le questionnaire OPQ, nous avons introduit deux notions sur le marché : la fiabilité et la validité. L'exactitude de notre science solide est constamment mesurée grâce à un processus validé d'étude, d'analyse et de revue, qui permet aux outils d'assessment de SHL de se démarquer de ceux des autres fournisseurs.
Le questionnaire OPQ a bien entendu évolué au rythme des changements qui se sont produits au sein du monde du travail. Cependant, il demeure l'outil psychométrique des comportements au travail le plus utilisé et le plus respecté dans le monde. En fait, plus de 15 millions de candidats dans le monde ont complété un assessment OPQ.
Aujourd'hui, notre célèbre questionnaire OPQ n'est que l'un des nombreux outils qui sont utilisés pour fournir des informations objectives et détaillées sur les comportements des collaborateurs au travail ; sur leur adéquation à un environnement de travail, comment elles travaillent avec les autres et quels postes sont les plus adaptés pour elles.
A great deal of research underpins our solutions, which has resulted in a market-leading suite of tools that enable businesses all over the world to recruit and manage talent in the most effective way.
En tant que fournisseur mondial principal des assessments pour le lieu de travail, nous pensons chez SHL qu'il est essentiel que nos solutions soient soumises à une évaluation interne et externe rigoureuse. Tout en respectant notre tradition de novateur, sans compromettre la fiabilité ni la validité, nous avons apporté sur le marché un ensemble d'outils d'assessment de premier ordre, y compris ceux qui mesurent les qualités essentielles pour réussir à un poste :
Aptitude
Comportement
Personnalité
Grâce à notre investissement et à nos analyses rigoureuses, nous continuons de faire avancer le domaine des assessments objectifs. Nos solutions permettent aux entreprises de gagner du temps et d'économiser de l'argent tout en prenant des décisions réfléchies et basées sur les données qui améliorent la productivité de leurs collaborateurs à chaque niveau.