OPQ was de eerste persoonlijkheidstest die specifiek voor de werkplek is ontworpen.
Meer dan 15 miljoen kandidaten wereldwijd hebben deelgenomen aan een OPQ-assessment. Tegenwoordig is de OPQ een van de instrumenten waarmee we bedrijven (en hun medewerkers) helpen hun potentieel waar te maken.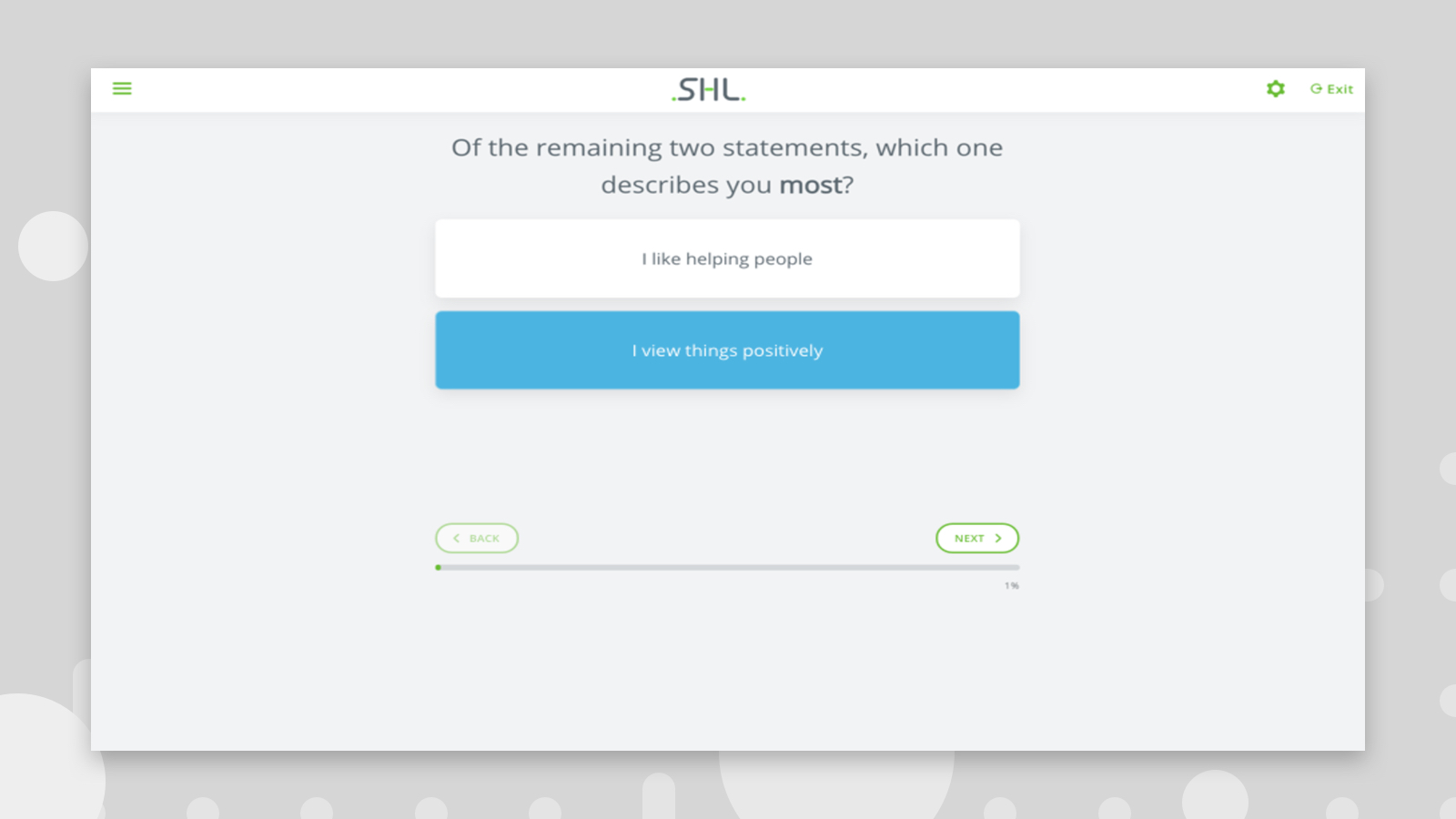 Example Question from the OPQ
In 1984 is SHL van start gegaan met de OPQ: het eerste persoonlijkheidsassessment voor de werkplek. Ons visie was om een objectieve tool te ontwikkelen waarmee organisaties beter zouden kunnen vaststellen wat de invloed was van bepaalde aspecten van iemands gedrag op zijn prestaties op het werk.
Met de OPQ hebben we twee dingen kunnen waarmaken: betrouwbaarheid en geldigheid. De nauwkeurigheid van onze robuuste wetenschappelijke onderbouwing wordt doorlopend gemeten. Hiervoor hanteren we een gevalideerd onderzoeks-, analyse en controleproces waarmee de assessmenttools van SHL zich onderscheiden van die van andere aanbieders.
Omdat de zakenwereld is veranderd, hebben we de OPQ mee laten veranderen. Toch blijft het 's werelds populairste en meest gerespecteerde psychometrische maatstaf voor gedrag op de werkplek. Het is zelfs zo dat meer dan 15 miljoen kandidaten wereldwijd hebben deelgenomen aan een OPQ-assessment.
Tegenwoordig is ons paradepaardje OPQ slechts een van een aantal verschillende hulpmiddelen waarmee we objectieve, gedetailleerde informatie verstrekken over het gedrag van medewerkers: hoe ze passen binnen een werkplek, hoe ze samenwerken en voor welke rollen ze het meest geschikt zijn.
A great deal of research underpins our solutions, which has resulted in a market-leading suite of tools that enable businesses all over the world to recruit and manage talent in the most effective way.
Wij van SHL zijn er als leidende internationale provider van zakelijke assessments van overtuigd dat onze oplossingen op rigoureuze wijze intern en extern moeten worden geëvalueerd. We hebben allerlei verschillende, ongeëvenaarde assessmenttools op de markt gebracht die zijn geworteld in onze innovatieve werkwijzen, zonder aan betrouwbaarheid en geldigheid in te boeten. Ook de hulpmiddelen waarmee de kritieke kwaliteiten voor zakelijk succes worden gemeten, zijn voorbeelden hiervan:
Capaciteiten
Gedrag
Persoonlijkheid
Dankzij onze nauwgezette analyses en investeringen blijven we het veld van objectieve assessments verder ontwikkelen. Met onze oplossingen besparen organisaties tijd en geld, én kunnen ze vol vertrouwen op gegevens gebaseerde beslissingen nemen waarmee ze de productiviteit van hun medewerkers op elk niveau een boost kunnen geven.