Talent Mobility Has Become Essential in 2021
How the power of context can help your leaders become more agile in a world that is constantly changing.
The last 10 years have seen a huge global change. Not only in our personal lives, but in the industry as well.
We have seen many organizations restructuring and almost all roles evolving. Gartner's HR priorities research report details just that — in the next 2-3 years, 90% of us will need to develop new skills within our existing roles, 83% of organizations are creating new roles, and 79% are retiring roles. Also, nearly half of the organizations surveyed (44%) are planning to restructure.
Gartner names the top two priorities for HR in 2021: 1) Build critical skills and competencies (68%), and 2) Organizational design and change management (46%).
It is clear we have a new precedent for agility and change, resulting in employee development and mobility becoming a 'must have'. But to achieve this change – we must build a leadership bench that has the ability to enable and empower it.
Context is the key to successful leadership mobility
Development and mobility are the focus for many who are looking to progress their leadership bench, but there is a problem. Many leadership mobility decisions do not result in a successful placement. We researched this issue and discovered that nearly half of leaders (46%) fail to meet their objectives in their first six months in a new role.
Getting leadership mobility decisions right takes time. Something that, in the spirit of an ever-changing work environment, we do not have. High potential identification, the strategic alignment and development of leaders, and succession planning all have varying levels of HR focus and business impact, and all require different insights. Those insights often come from different siloes of data.
So, as mobility grows in importance, we wanted to find out what insights are needed to make the most accurate decisions. We looked at nearly 9,000 global leaders, aiming to identify what makes them successful. The conclusion… context.
We found that leaders who are highly fit to the context of the role are 4x more likely to be top performers. In other words, the more specific you can be about the context of the role, the higher your chances are of finding a high-fit candidate.
Despite the specificity of context being a powerful tool, a broader competency-based approach retains an important role in leadership mobility as well. They are the best way to identify high potential leaders (i.e., who has the ability, aspiration, and engagement to be a leader). However, when an alignment, development, succession, or selection decision needs to be made, context is king.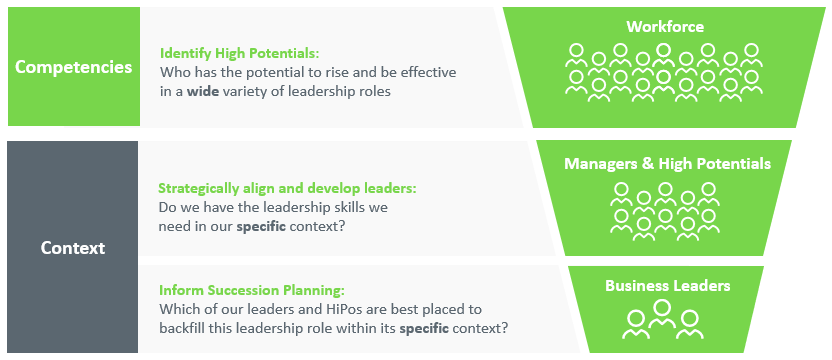 Mobilizing the leadership bench brings multiple benefits
It is clear that finding the right leaders will positively impact business performance, but the benefits of getting leadership mobility right do not end there. We derived the following from the 9,000 leaders we studied.
Greater leadership diversity – we found that 58% of contextually high-fit candidates to critical leadership roles were women.
Enhanced HR efficiency – we found that 30% of internal talent is likely to be successful in any given context, therefore making an internal hire much more likely. Resulting in reduced hiring costs and a quicker time to full productivity.
Increased leader engagement – contextually high-fit leaders have 82% higher engagement rates than low-fit leaders.

For HR teams to deliver both tactical short-term and strategic long-term leadership mobility, differing insights are required. Ranging from a broad competencies approach to a more specific contextual approach.
Learn More about how to harness the power of context and competency data in our single platform of leadership mobility assessments and insights.