eBook
Beyond the HIPO Hype
How to reduce risk and realize more value from your HIPO program
SHL research shows that high-potential employees (HIPOs) bring 91% more value to the organization than non-HIPOs. However, most organizations are not realizing this value, with 73% of HIPO programs showing neither business outcomes nor ROI. In order to drive value from HIPO programs, best-in-class companies address the three critical factors for success: Identification, Benchmarking, and Development.
Download the eBook to learn how to:
Accurately identify your true high-potentials
Externally benchmark high-potentials against the competition
Develop high potentials through impactful on-the-job learning
Download eBook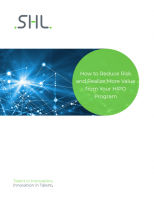 Download
Make Transformation Possible for Your People
Experience the greatest business outcomes possible with SHL's products, insights, experiences, and services.
Explore SHL's Wide Range of Solutions
With our platform of pre-configured talent acquisition and talent management solutions, maximize the potential of your company's greatest asset—your people.