There is little debate that technology, automation, and AI are profoundly changing the way we work. While some skills become less important, others are rising in importance.
Our in-depth analysis of proprietary SHL data across the last two decades has identified the key skills and competencies of the future and illustrates why they are growing in prominence.
This whitepaper addresses important questions that employers and employees alike are asking, such as:
Does the future workforce need new or different skills, and if so, which ones?
How does the new generation of employees differ from past generations?
How universal are the trends? Are there significant differences across sectors?
And, finally, how can organizations respond to these trends? What should they stop or start doing?
If you want to discover further top strategies on how to establish consistent processes in future-proofing your organization, our collection of resources can help you!
Download Whitepaper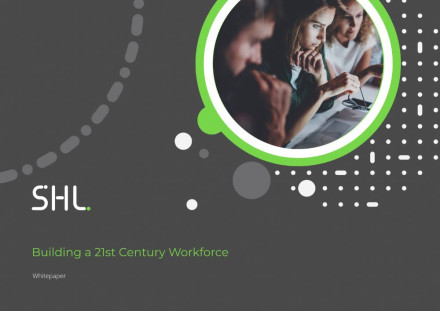 Complete the form to download our whitepaper and learn more about the 21st-century workforce.
Download Whitepaper
Make Transformation Possible for Your People
Experience the greatest business outcomes possible with SHL's products, insights, experiences, and services.
Explore SHL's Wide Range of Solutions
With our platform of pre-configured talent acquisition and talent management solutions, maximize the potential of your company's greatest asset—your people.