Whitepaper
A New Era in Graduate Recruitment
Time for meaningful experiences
How can you build a recruiting experience to meet the needs of graduates and employers in today's world?
We researched almost 800 graduates over a period of two years to understand how the changing world of work has impacted their experiences. We found that the challenges they encounter on the job can be mapped back to the competencies they need to overcome them.
Our conclusion?
That you need to move beyond measuring traditional competencies and instead assess the behaviors needed to be successful in today's workplace.
Read our whitepaper to learn more about these challenges and associated behaviors that graduates require to thrive in today's workplace.
Download Whitepaper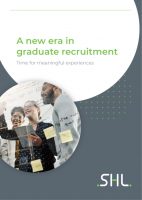 Download
Make Transformation Possible for Your People
Experience the greatest business outcomes possible with SHL's products, insights, experiences, and services.
Explore SHL's Wide Range of Solutions
With our platform of pre-configured talent acquisition and talent management solutions, maximize the potential of your company's greatest asset—your people.