Report
Global Assessment Trends Report
The Latest View on Talent Management and Assessment Practices
Based on a recent online survey of over 3,000 HR professionals, our latest Global Assessment Trends Report is now available.
This provides a comprehensive view on how organizations prioritize, measure and evaluate talent – enabling you to benchmark your approach against that of your peers.
Download the report for 12 key findings focused around three areas:
The changing nature of work and related implications for organizational strategy and talent management
The increasing importance of talent data in the future
The current and planned usage of talent assessment tools
Download Report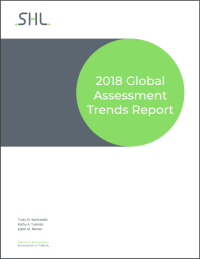 Download Report
Make Transformation Possible for Your People
Experience the greatest business outcomes possible with SHL's products, insights, experiences, and services.
Explore SHL's Wide Range of Solutions
With our platform of pre-configured talent acquisition and talent management solutions, maximize the potential of your company's greatest asset—your people.