Predict Performance and Potential with Online Personality Assessment Tests
Personality assessments measure characteristics that predict performance and future potential in a specific job. Now available in more than 30 languages, SHL personality tests show how a candidate will fit into the work environment, work with other people, and cope with role-specific job requirements.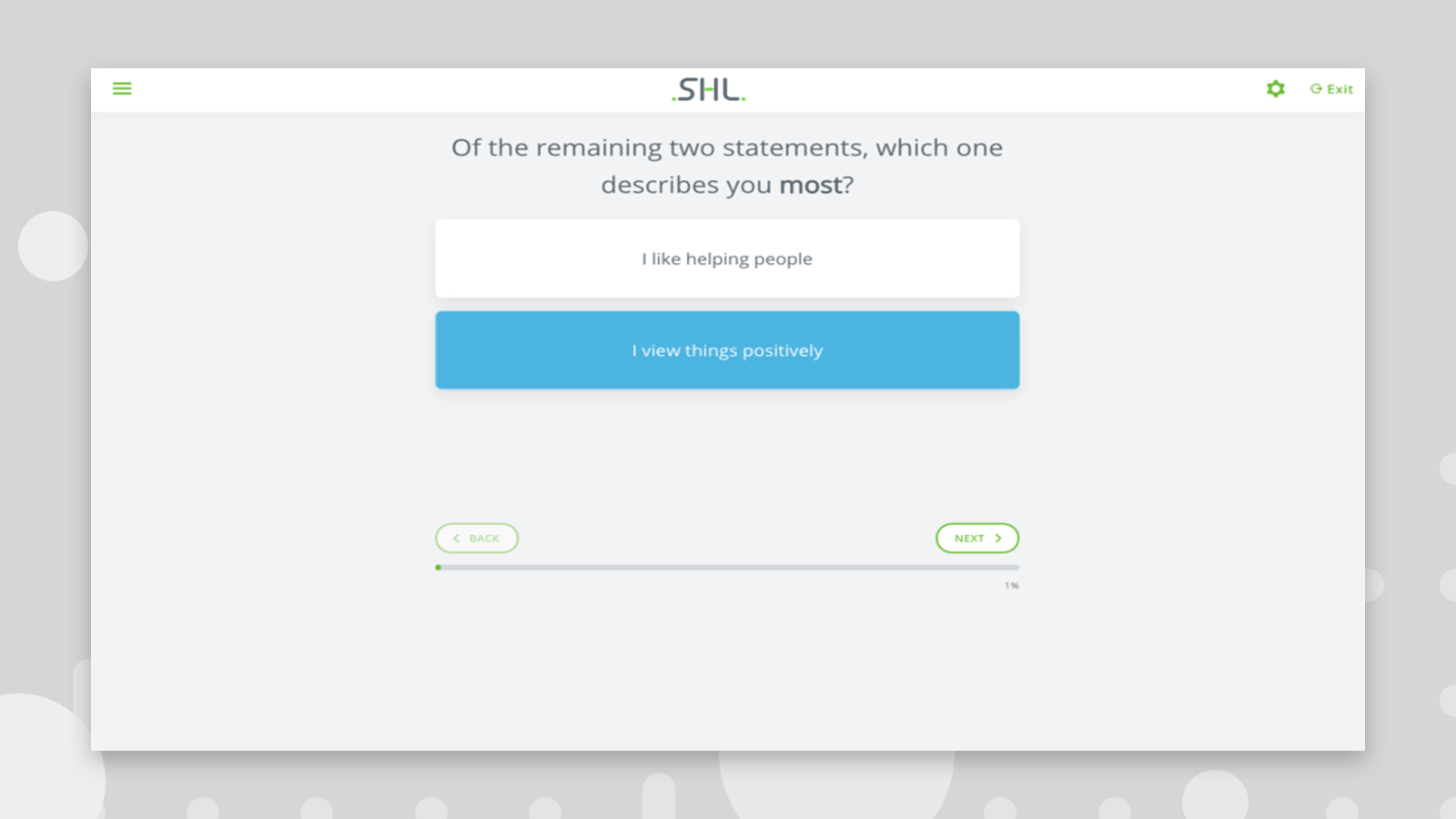 Personality Assessments Tests for the Entire Employee Life Cycle
In recruitment, as part of a job solution, to sift thousands of candidates
In selection, to identify candidates most likely to succeed in a role
In team building, to improve team performance
In development, to identify strengths and development needs
In succession, to identify and develop future leaders
During transitions, as an input into redeployment and restructuring
SHL has the largest database of assessment records in the world – more than 24 terabytes of historical data from more than 86 million candidates and 400 validated job profiles. Our personality assessments provide an unparalleled resource for truly understanding talent at an individual or organizational level.
What is personality testing in the workplace?
Personality tests can be utilized in a multitude of ways within an organization. Selection, recruitment, training and development, assessment centers, team building, performance management, research, and organizational change are some of the areas where personality tests can be used to identify, understand, predict, place, and/or develop the performance of candidates and employees. Appropriate use of these tests can lead to a more effective and successful organization. Linking the results of the personality tests to effective performance in a validation study allows for them to be used to their full potential. Validation and job analysis also reduce legal risks of inappropriate use of the assessments in the workplace.
What are the different types of personality assessments?
There are two common formats to personality questionnaires:
In one format, you are asked to rate yourself (using a Linkert responses scale).
In the other, you are asked to choose between different statements that look at different aspects of personality.
Rating Statements
Many common personality assessments utilize a Likert response scale. In these types of tests, a person is often asked to rate the level to which they agree with a statement, e.g., strongly disagree, disagree, neither agree or disagree, agree, or strongly agree. Likert response scales do not always have to specify agreement and can also span ratings of likelihood (very likely to not very likely, importance (very important to not very important) or frequency (rarely to never).
Making Choices
A forced-choice approach to personality assessment requires a person to select which of a set of statements or adjectives are most or least like them. These types of assessments tend to be faked less easily than Likert tests as the statements or adjectives presented are interpreted as equally desirable or positive.