Hire graduates for tomorrow, today.
Learn how SHL's Graduate Hiring Solution will help you simplify your talent strategy and quickly identify those with the potential to succeed.
Speak to Our Experts
Graduate Hiring Made Simple with SHL
A Single Source of Talent Intelligence
Get a comprehensive view of your candidates' readiness for the role, potential for future success and fit within the organization.
Monitor the effectiveness of your graduate recruitment program through interactive, real-time dashboards.
Integrate easily with over 80 leading applicant tracking systems.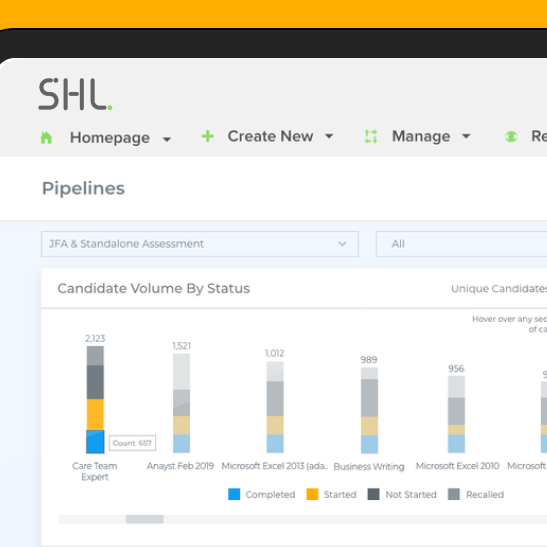 Fair and Engaging Assessments
Fairly evaluate readiness, potential, and fit with SHL's portfolio of scientifically backed assessments. All are delivered through an engaging candidate experience with automated video feedback, helping your organization stand out.
Identify best fit early career talent and make accurate decisions through easy-to-interpret talent insights.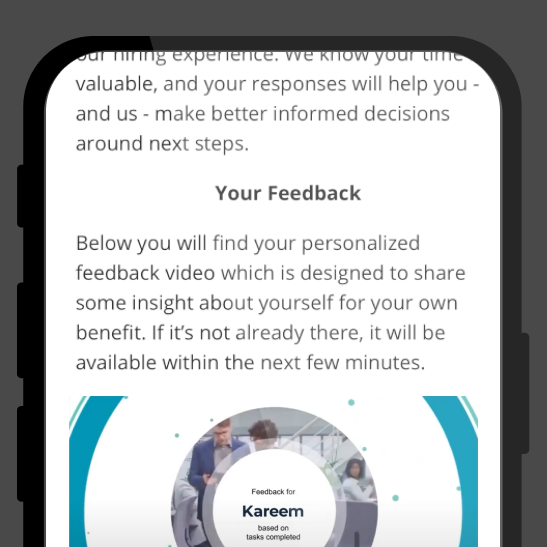 Get to Know Your Candidates
Meet early career talent wherever they are, at scale, with our on-demand video or live video interview platform.
Evaluate candidates using recommended interview questions and scoring guides.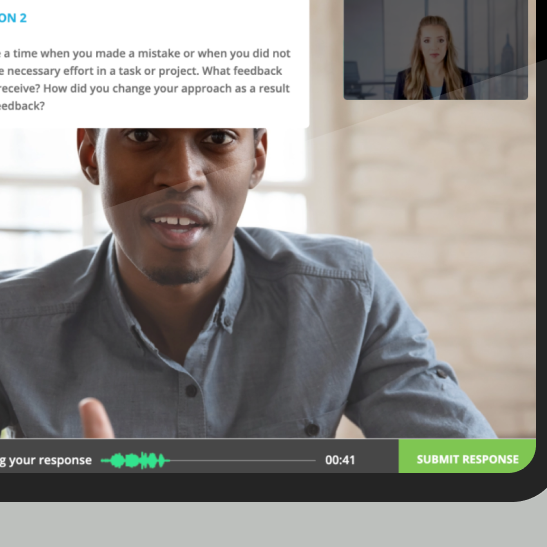 See SHL's Graduate Solution in Action
SHL's hiring platform simplifies the process for your team and generates more insights than a resume could ever provide, whilst serving powerful on-brand interactions that resonate with candidates.
Get the Most Out of Your Graduate Hiring Program
Our in-house team of people scientists have analyzed graduate assessment scores from 20,000+ candidates to better understand the availability of specific competencies across different regions and industries. Read the latest reports to better understand your early career talent cohorts.
Graduate Competencies by: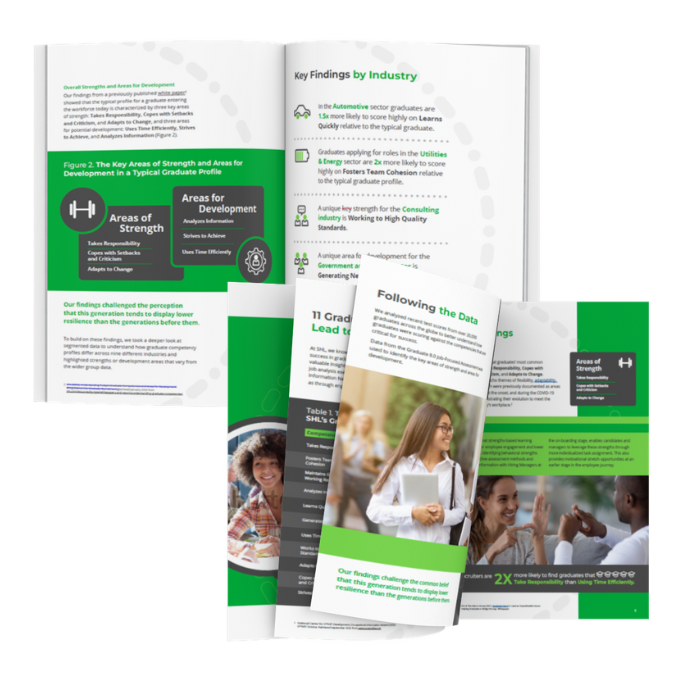 Learn from Early Careers' Selection Experiences
Key findings from our latest SHL and The Adecco Group white paper: Gen Z's Opportunity is Your Organization's Gain


6 Considerations for Graduate Recruitment in 2023 and Beyond
Roles and talent needs are rapidly changing. Consider whether it is more important for candidates to be ready to perform the job they were hired for, or for them to have potential to be successful in other roles down the line. Striking the right balance of readiness and potential is critical to your evaluation process.
Skills based hiring is a recruitment approach that focuses on the specific skills and knowledge a candidate has, rather than on their prior work experience and education. Required skills may differ from organization to organization, but fundamentally there are underlying traits of behavior that are transferable across many roles, such as critical thinking, communication, and problem solving. Ensuring your candidates have specific foundational skills means that they can adapt as the requirements of their roles change.
By considering the needs and values of employees, organizations can create a workplace that is supportive and conducive to productivity and well-being. While work-life balance is important for any role, it is particularly valued by early career talent. Clearly communicate policies such as remote working or flexible schedules during the recruitment process to showcase company culture, and attract and retain candidates.
Early career talent are acutely aware of societal issues surrounding diversity, equity and inclusion, and the responsibility that organizations have to improve the situation for us all. Many companies have made good progress through a concerted effort in their talent processes to promote and embrace a wide range of experiences, backgrounds, and perspectives, but there is still work to be done. Ensure your early careers recruiters and hiring managers are committed to your DEI initiatives.
Contrary to past research, SHL's latest study shows that graduates typically demonstrate high levels of resilience and adaptability. And while the most common strengths and development areas are broadly consistent across regions and industries, there are a few differences. Ensure your knowledge of the specific graduate landscape you are operating in is up to date and adjust your strategy accordingly.
With applicants less committed to individual hiring processes than ever before, exceptional candidate experience is a great way to stand out from the crowd. Graduates today have high expectations for both the technology they are expected to use and the experience that organizations present them with. Make sure your hiring process is efficient and engaging, and give applicants a chance to get to know you.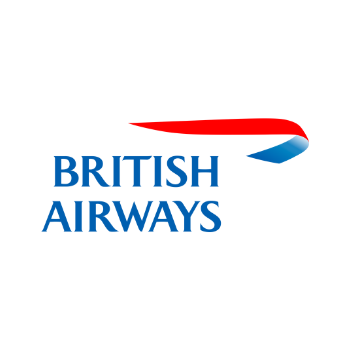 We have worked with SHL for a number of years on our graduate recruitment program, during this time we have seen an increase in candidate engagement and quality of candidates making it to the final stages. The end to end solution had a significant impact on our brand in the competitive graduate market.
Helen Alkin
Emerging Talent Strategy & Resourcing Lead
British Airways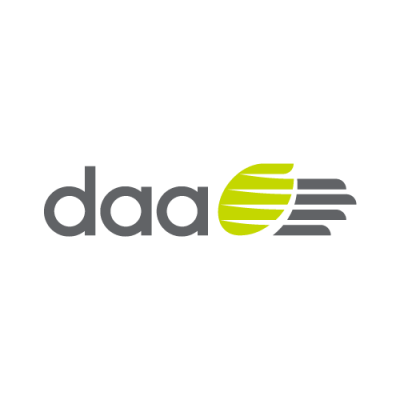 Since 2015, SHL's talent acquisition solutions have helped us from entry level through management level roles. SHL has also helped us streamline our graduate recruitment process, and has resulted in strong, quality candidates who are a good fit for DAA.
Siobhan Winters
Head of Talent Acquisition
Dublin Airport Authority

SHL's solution has saved us considerable time and money. For example, with the old online testing process, it would take us half an hour or so to input a batch of candidates on to the platform. The SHL tool generated everything for us so the same thing took us just five minutes.
Ioana Gaspar
WMA Recruitment Delivery Team Leader
Bombardier
10,000+
organizations worldwide partner with SHL for smarter talent decisions.
45 billion
data points to support benchmarking and predictive decision-making.
3X
more likely candidates are rated "excellent" by managers after 6 months in the role.
Your Strategic Talent Acquisition Partner
Whether you want to understand candidate fit, readiness or potential, SHL will provide a neatly packaged, simple-to-deploy solution to help you get what you need from your graduate recruitment program.
Speak to our experts