SHL Verify
Cognitive Ability Assessments
SHL Verify cognitive ability assessments identify the candidates with the right abilities and potential to succeed in the role.
Verify ability tests can be used to find the best people to fill vacancies and develop your existing workforce, helping employees achieve their highest potential.
These assessments are available for all job levels from entry- to executive-level and are supported by a range of appropriate norm comparison groups. Many of our tests use the latest advancements in computer adaptive testing to enhance the effectiveness and efficiency of the assessment. Verify can be used in isolation or alongside other psychometric tests for a more holistic solution.
Our SHL Verify ability assessments can be administered separately or in any combination. Tests are available in a range of languages and additional tests may be available depending on your organization's need. Our experts can help you select the appropriate assessments and/or provide the training and support resources to enable your team. The tests are appropriate for all job levels including, entry, graduates, and managerial/professionals.
The Verify tests are designed to measure:
Highly Accessible and Deliverable
24/7 access for candidates
Available in over 26 languages
Easy to administer and deliver
Part of an End-to-End Talent Solution
Can be integrated seamlessly into recruitment, applicant tracking, or talent management systems
Minimizes the Risks of Online Testing
Different questions for every applicant
Secure against data theft and cheating
Optional supervised verification test ensures your candidate is the same person who took the test
View SHL Verify sample reports in available languages by browsing our Assessment Catalog.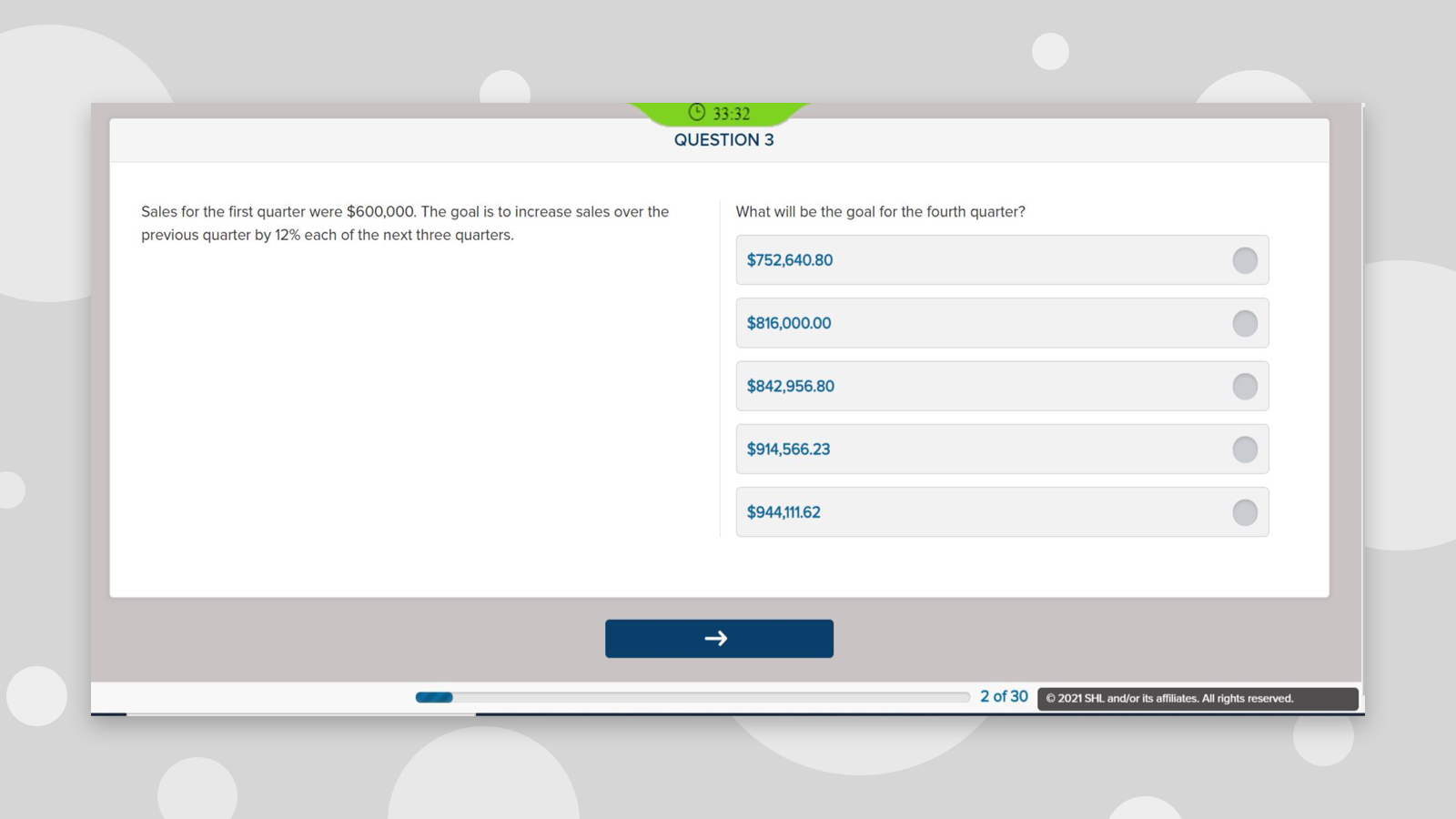 The Verify Numerical Ability Test measures candidates' ability to work with numbers and use appropriate mathematics in different situations. This test requires candidates to solve word problems, perform numerical calculations, and interpret data in tables and graphs.
This test is especially relevant where the following tasks are critical aspects of the job or role:
Understanding relevant data in tables and charts
Quickly and accurately using basic mathematical concepts to analyze data
Drawing the appropriate conclusions based on mathematical analyses
The Verify Inductive Reasoning Test measures candidates' ability to draw inferences from, and understand relationships between, various concepts. Tasks include working out the pattern in a set of images and identifying the correct next image from the given options.
This test is especially relevant where the following tasks are critical aspects of the job or role:
Dealing with new concepts and approaches
Answering questions of "why" and "how"
Resolving complex and ambiguous problems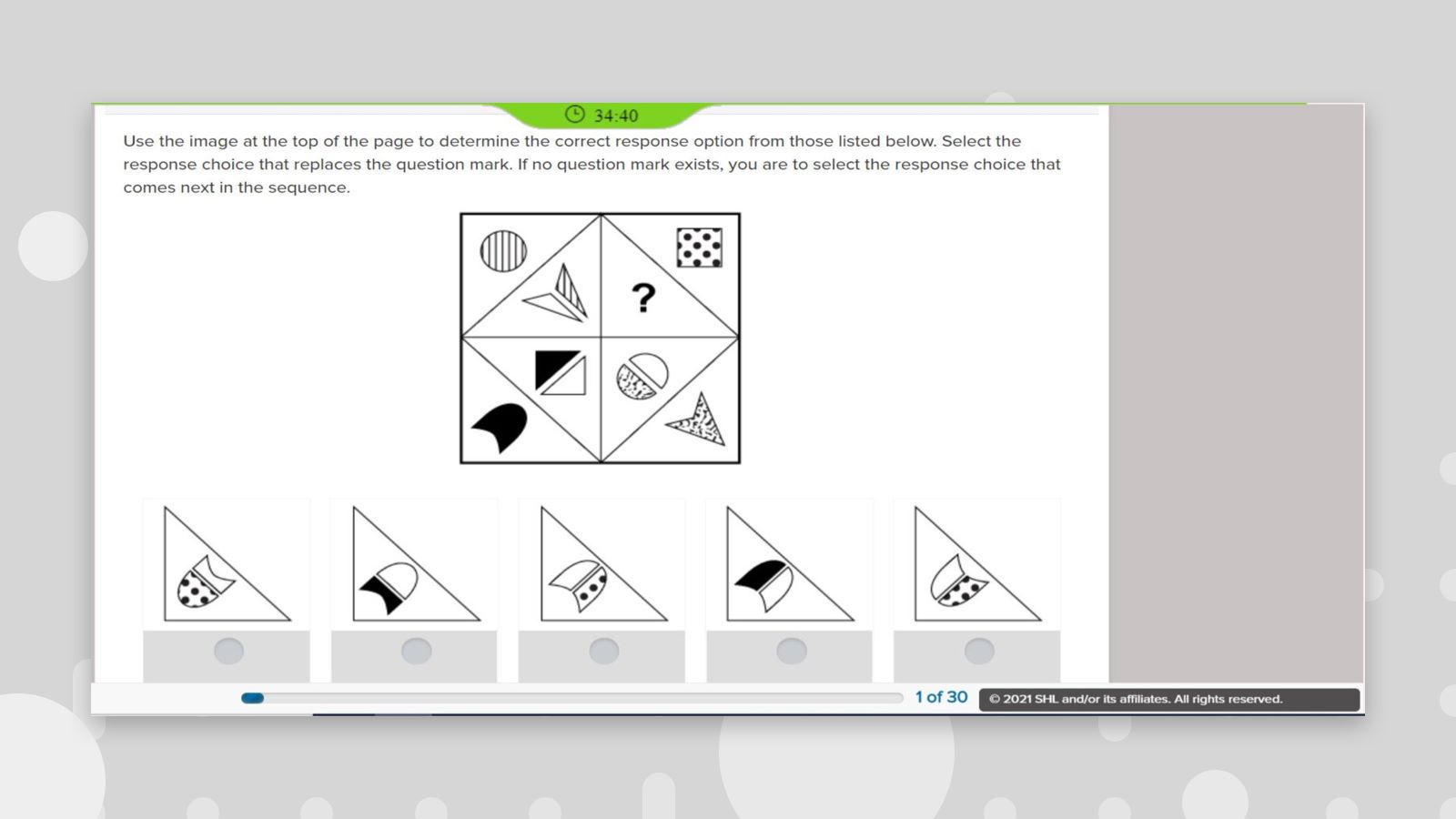 The Verify Deductive Reasoning Test measures candidates' ability to draw logical conclusions based on information provided, identify the strengths and weaknesses of an argument, and complete scenarios using incomplete information. Tasks include reading statements and determining which of the options cannot be true or must be true.
This test is especially relevant where the following tasks are critical aspects of the job:
Evaluating arguments
Analyzing scenarios
Drawing conclusions from data
Verify G+ measures general mental ability, or G, and effectively measures candidates' problem-solving and critical reasoning capabilities. Verify G+ uses a cutting-edge approach to measuring multiple abilities in a minimal amount of time. Based on advances in psychometrics, Verify G+ leverages the strong relationship between abilities to measure three types of abilities—deductive reasoning, inductive reasoning and numerical ability—in the time it would take to measure two.
The test administers 30 items in 36 minutes and generates accurate assessments of the three specific abilities, producing individual test score results and a score for G.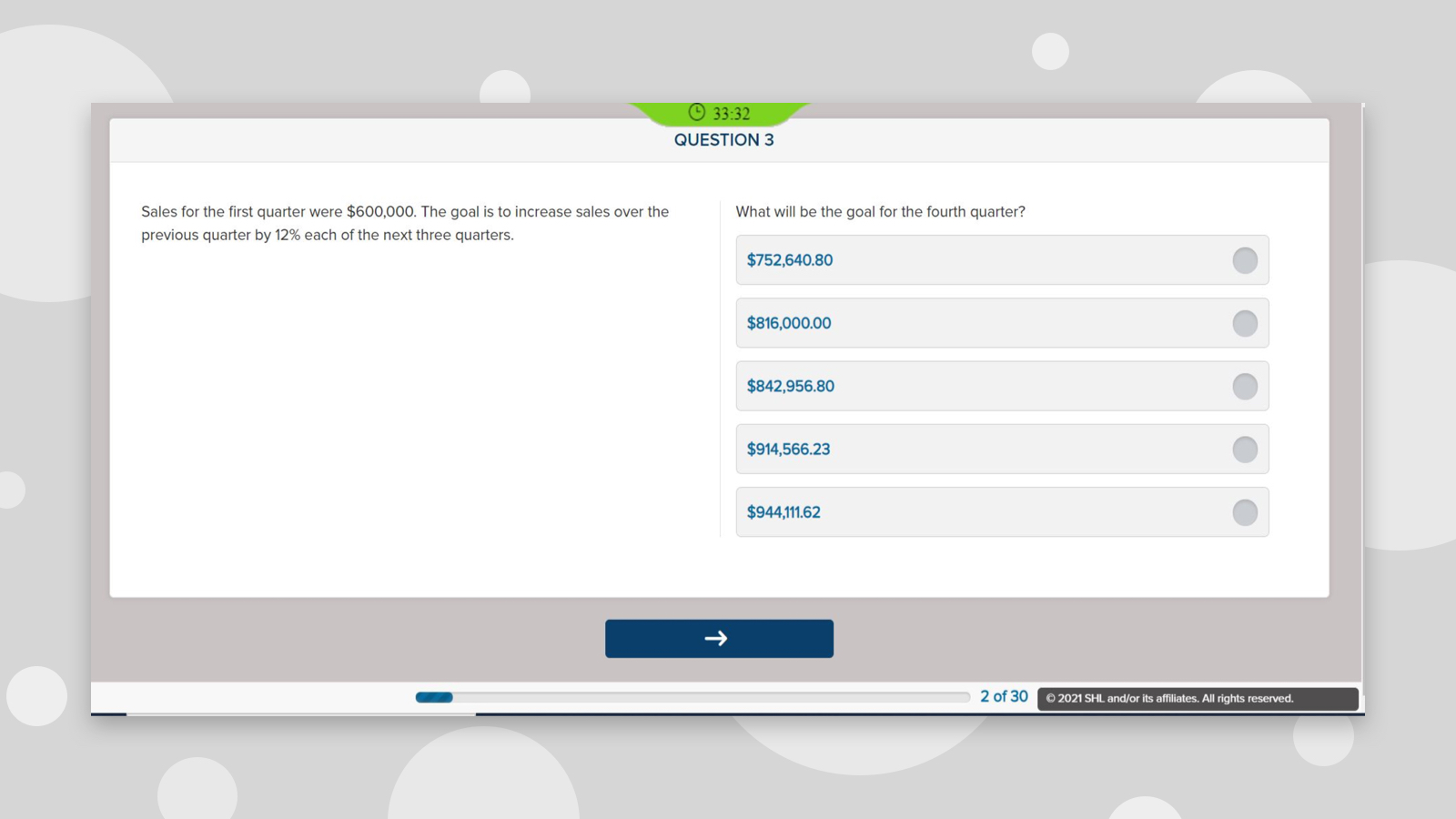 The Verify Calculation Test measures candidates' ability to add, subtract, divide, and otherwise manipulate numbers quickly and accurately, which is critical to many workplace tasks such as estimation, auditing, and checking.
The test is relevant to entry-level, administrative, and clerical roles, as well as apprenticeships, internships, and recent graduates, where the following tasks are critical aspects of the job:
Calculating and checking figures
Using calculators and computers for daily calculations
Balancing currency, coin, and checks in a cash drawer
Issuing refunds, receipts, and change
Quoting prices, credit terms, and other bid specifications
The Verify Verbal Ability Test measures candidates' ability to extract relevant information from written sources and make objective judgments based on that information. It indicates how an individual will perform when working with reports, correspondence, instructions, and research information.
The test emphasizes understanding, using, and evaluating verbal information rather than vocabulary, spelling, or grammar.
The Verify Verbal Ability Test is adaptive and covers a broad range of difficulty levels, making it appropriate for jobs at multiple levels. This test is relevant when the following tasks are critical aspects of the job or role:
Understanding reports and documents
Following written instructions
Preparing written documents
The Verify Mechanical Comprehension Test measures candidates' ability to understand basic mechanical principles and apply them to devices such as gears, levers, and simple structures. This ability is important whenever equipment, hardware, or machinery is being designed, installed, or maintained. This test is therefore relevant where the following tasks are critical aspects of the job:
Understanding or designing the operation of machine components
Operating mechanical devices
Maintaining and repairing machinery
The Verify Checking Test measures candidates' ability to compare information quickly and accurately in a clerical environment.
This test is particularly useful in assessing an individual's potential for a role that requires perceptual speed and high standards for maintaining quality.