Is Your People Data Failing You?
Is your people data failing you? It turns out that it is not the data—it is what you do with it! Learn how you can use your data to make winning talent decisions.
We are awash with data. Predictions suggest that by 2025 the total amount of data that will be created, captured, copied, and consumed will be in the region of 175 zettabytes (one zettabyte is a trillion—a trillion—gigabytes). That is a LOT of data. We also know that data increasingly inform a multitude of decisions within companies, many of them related to a company's greatest assets, their people. Yet with all this people data available, human resources continue to make poor decisions concerning their people.
So, is your data failing you? How can you overcome challenges in your decision-making process? Read further to discover how you can take control of your people data and start to make winning talent decisions.


Is data the challenge to the decision-making process?
First of all, the challenge is not the data. The challenge is access to data that is relevant to the decisions that a company needs to make. The challenge is knowing which data provides the greatest value and ensuring that the value of the data increases over time. The challenge is ensuring your decision-makers have the competence to analyze the data.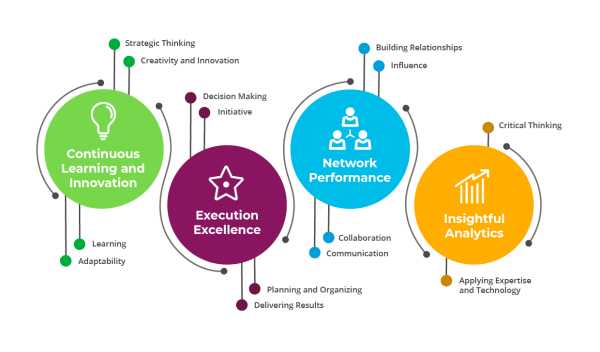 Next, when it comes to competencies, an increasing (and relentless) digital world demands specific digital competencies. Clustered into four digital talent objectives—continuous learning and innovation, execution excellence, network performance, and insightful analytics—, 14 core competencies are critical for success (see image above). Critical thinking and applying expertise and technology are especially important when it comes to analytics. Critical thinking provides the foundation for gaining an understanding of problems, evaluating and integrating available information, identifying patterns, trends, and relationships within data, and challenging assumptions to draw informed conclusions.


Critical thinking and applying expertise and technology are especially important when it comes to analytics.
So, how do you win?
Despite the importance, it is more than competencies that are at the heart of successful data analytics and decision making. We need to consider the origins and source of the people data, how we support data decision-makers, and how technology plays a role in underpinning effective decisions. This boils down to four aspects: products, experience, services, and insights.
Let's delve into each aspect.
Products—The source of your data, especially as it pertains to human resource data and psychometric assessments, must be valid and reliable. Psychometric assessments rooted in science, informing the constructs being measured, the design of the user experience, and the scoring—amongst others—are a pre-requisite for collecting data that you can use with confidence across your talent decisions.

Experience—Providing a positive experience, especially during the hiring process, ensures that future talent completing your hiring process is more aligned to both your organization and the role for which they have applied. Greater alignment improves the quality of the data you collect, giving you confidence in your decision-making based on the data on hand.


Services—Provide high-quality, high-touch support for data analytics and decision-making. Not, in many instances, making decisions themselves, but rather services that coach data analytics to support decision making. This is where coaching is critical! Coaching focused on the data available, on critically evaluating that data, and on understanding the data about the organization's objectives, helps to ensure that decisions are based on information rather than on gut feel and intuition.


Insights—Effective data analysts and decision-makers balance the need for speed with the quality of data. Leveraging technology is key. Technology, such as the SHL platform, provides always-on access to data. Critically, the data available should be used to answer a variety of different talent decisions. All too often, talent data is used on an 'on data point-one decision' basis. Data can, and should, have a value that extends to multiple decisions across the talent management lifecycle, thereby increasing utility and value. Technology also allows access to data deep into an organization, providing a view of talent that supports diverse decision-making rather than being restricted to often biased sub-sets of data. Technology democratizes data!
Data does not fail you. Rather, it is what you do with it that determines the outcome. Ensure that you have confidence in the quality of your data (rooted in science and focused data collection). Support your decisions makers by providing coaching and guidance, rather than making decisions on their behalf. Leverage technology to provide always-on access to data—technology that increases the value of your data over time, and technology that gives you a deeper view into your talent. Together with digital competencies, consideration of products, experiences, services, and insights, underpin confidence to make sense of the zettabytes worth of data and, ultimately, support focused and relevant talent decisions. It really is about you!

You can make winning talent decisions using your people data. Contact us to learn how we can help you achieve that!