With the world evolving for employers, the leadership environment has significantly changed, posing challenges to leaders in a hybrid workplace.

Leaders must possess the three key strengths that drive success in a modern world: transactional, transformational, and network leadership. Without these skills, organizations may suffer from unhealthy internal competition, a lack of mobility, and unsupportive teams where talent cannot be leveraged across the business.
However, according to SHL's global study, to drive organizational success, especially in this new hybrid workplace, a new type of leadership is needed - enterprise leadership. Read this eBook to understand:
Three core strengths that determine leaders' success
What drives the need of the new type of leadership
How to enable and transform your leaders into enterprise leaders
SHL's Enterprise Leader Development Solution helps organizations identify gaps and strengths in their leaders' capabilities and align development initiatives. With research-based, validated, and objective assessments, organizations can confidently make investment decisions and enable their leaders to excel in a hybrid workplace.
Read eBook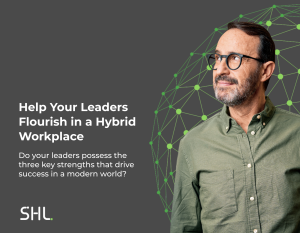 Are your leaders equipped for the changing leadership environment?
Elevate your leadership development program with SHL's Enterprise Leader Development Solution.
Contact Us View Solution
Explore SHL's Wide Range of Solutions
With our platform of pre-configured talent acquisition and talent management solutions, maximize the potential of your company's greatest asset—your people.