With businesses facing constant uncertainty and challenges, traditional one-size-fits-all leadership models and static succession plans are no longer effective. Agile succession planning is what organizations need to sustain today's challenges.
SHL's Succession Planning solution takes context into consideration, examining the fit between leaders and contextual challenges to identify, assess, select, and develop leaders with greater precision. By factoring in the wider work context, SHL's approach enables organizations to make predictions that are over 4x times more accurate on average, identify leaders who perform 22% better on average, and lead to a 4% increase in both revenue and profit.
This 'Agile Succession Planning' eBook covers the following questions:
What makes a great leader?
Why is context important in leadership roles?
What are the critical contexts that impact leaders' success?
Read our eBook to learn more and gain an edge on your competitors.
Read eBook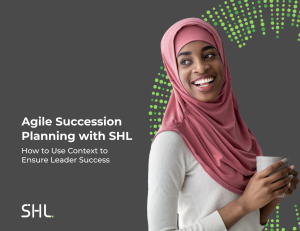 Ready to optimize your succession planning with context-driven leadership selection?
Contact SHL today and learn how our data-driven insights can help you identify, assess, and develop leaders with greater precision, no matter the scenario.
Contact Us View Solution
Explore SHL's Wide Range of Solutions
With our platform of pre-configured talent acquisition and talent management solutions, maximize the potential of your company's greatest asset—your people.