High potential employees (HIPOs) are critical to an organization's success as they are almost twice as valuable and three times more likely to succeed as future leaders. However, identifying and developing high potential employees can be challenging, and many organizations struggle to fulfil their HIPO program's promise.
Organizations that invest in the wrong people due to misidentification of HIPO talent may experience poor performance in tough economic times. SHL's HIPO model, based on scientific assessments, identifies the three defining attributes of HIPOs - aspiration, ability, and engagement - and provides insights and personalized development plans to increase the likelihood of a HIPO program's success.
High potential employees are three times more likely to succeed as future leaders of an organization, but 55% drop out of their HIPO programs within five years. In this eBook, we talk about the following questions:
Is your HIPO program working?
What is SHL's HIPO model?
How can you identify and retain your HIPOs?
Read SHL's Reduce Flight Risk of Your High Potential Employees to learn how SHL's HIPO solution can help you identify, engage, and retain your HIPOs, and ensure the success of your HIPO program.
Read eBook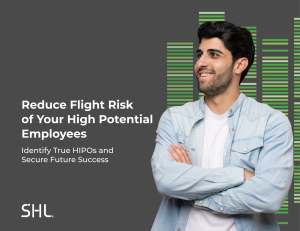 Secure future success with SHL's HiPO Solution
Learn how SHL's scientifically validated assessments can help you identify and develop your organization's high potential employees.
Contact Us View Solution
Explore SHL's Wide Range of Solutions
With our platform of pre-configured talent acquisition and talent management solutions, maximize the potential of your company's greatest asset—your people.