The excitement of Artificial Intelligence (AI) to enhance talent assessment is upon us! The possibilities for this technology are endless, and yet there are many who are cautious about the unintended impacts that AI may have.
SHL has one of the most trusted scientific teams of over 300 occupational psychologists in the Human Resource Tech industry. Through research, our team designed the whitepaper "The Ethical and Effective use of Artificial Intelligence to Assess Talent" featuring six best practices to harness the full potential of AI technology in talent assessment.
Do not get left behind on this new technical frontier!
Download Report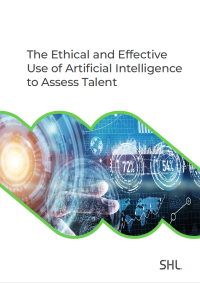 Find Out More
Experience the greatest business outcomes possible with SHL's products, insights, experiences, and services.
Contact Us
Explore SHL's Wide Range of Solutions
With our platform of pre-configured talent acquisition and talent management solutions, maximize the potential of your company's greatest asset—your people.