Out of all generations, Gen Z is impacted the most by the pandemic as it has tremendously diminished job and learning opportunities for them. However, despite the challenge, this generation has unique skills that are an asset in today's workplace and may define the future world of work and leadership. By 2040, many leadership positions around the globe will be held by Gen Z and they will dominate the workforce before you know it.
In this paper, we studied the intellectual capability and behavioral style of Gen Z, using the participants of Adecco's CEO for One Month program as a sample. The study provides a holistic assessment on Gen Z's:
Thinking style
Behavioral style
Ability to address challenges
Top drivers for motivation
This paper is useful for leaders and organizations who are in the process of building a long-term talent acquisition and management plan, so they can engage and support Gen Z to develop them into future leaders in the ever-changing world.
In partnership with:

Download White Paper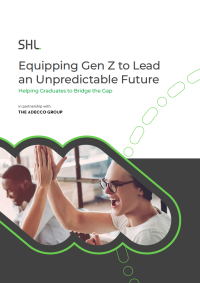 Download the white paper to learn more about how you can best support Gen Z so they can lead in the unpredictable future.
Find Out More
Experience the greatest business outcomes possible with SHL's products, insights, experiences, and services.
Contact Us
Explore SHL's Wide Range of Solutions
With our platform of pre-configured talent acquisition and talent management solutions, maximize the potential of your company's greatest asset—your people.