Is the traditional emphasis on degrees fading in the hiring landscape? In a rapidly evolving job market, employers are shifting their focus to tangible skills and abilities.
At SHL, we have conducted extensive research to identify the key skills that lead to success in professional-level roles. By leveraging data from SHL's Professional Solution we were able to identify the 11 crucial skills that are predictive of success across all professional fields by region and industry.

Read SHL's 'Hiring Professionals: Optimize Skills-Based Hiring with Data' to discover the 4 steps to optimizing your skills-based hiring and deliver hiring impact that aligns to your business's goals.
Unlock the power of skills-based hiring and revolutionize your talent strategy today.
Choose SHL's Professional Hiring Solution to deliver hiring impact that aligns to your business's goals.
Contact Us
Download White Paper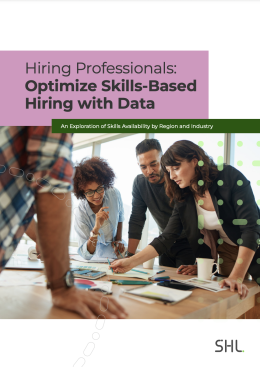 Make Transformation Possible for Your People
Experience the greatest business outcomes possible with SHL's products, insights, experiences, and services.
Explore SHL's Wide Range of Solutions
With our platform of pre-configured talent acquisition and talent management solutions, maximize the potential of your company's greatest asset—your people.