Digital transformation has led to strong demand for tech talent in almost every sector. According to the Bureau of Labor Statistics, software development jobs are projected to grow 21.5% by 2029.
Despite this massive growth, tech recruitment takes a longer time than any other recruitment, which makes it challenging. Therefore, understanding the skill gaps and the coding skills of candidates is crucial to increase the talent pool.
This paper is useful for decision-makers who are in the process of building a future-proof tech talent acquisition program and for hiring managers or recruiters in tech companies in general.
Download Report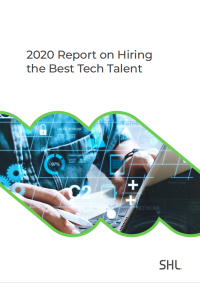 Download our 2020 Report on Hiring the Best Tech Talent and learn how you can boost your tech hiring portfolio.
Find Out More
Experience the greatest business outcomes possible with SHL's products, insights, experiences, and services.
Contact Us
Explore SHL's Wide Range of Solutions
With our platform of pre-configured talent acquisition and talent management solutions, maximize the potential of your company's greatest asset—your people.