The business outcomes to be gained from a transformational candidate experience are clear but starting that transformation can be intimidating. For this paper, we studied the current state of candidate experience but importantly looked for inspiration from consumer experiences.
Six shifts emerged as natural opportunities to transform the candidate experience. And the good news is that the capabilities needed for this upgrade are well within reach.
Giving Value to candidates: From passive to interactive experiences

Empowering Candidates: From 9-to-5 to 24/7

Continually Iterate: From set and forget to agile

Personalizing Experiences: From mass-market to personal

Being Authentic: From rehearsed to real

Differentiate via Diversity: From display to demonstration
Download White Paper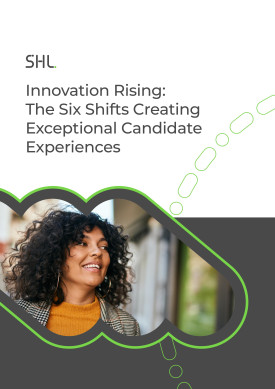 Download the white paper to learn more about the six shifts and get an actionable roadmap to transform your candidate experience.
Find Out More
Experience the greatest business outcomes possible with SHL's products, insights, experiences, and services.
Contact Us
Explore SHL's Wide Range of Solutions
With our platform of pre-configured talent acquisition and talent management solutions, maximize the potential of your company's greatest asset—your people.