Hiring and managing talent is central to an organization's success or failure in today's knowledge-driven economy. With the advent of technology and the new age of communication, employment interviews have been conducted virtually.
Nevertheless, interviews (in particular, interviewers) have the maximal impact on the candidate's experience in the recruitment lifecycle. A negative interview experience reflects poorly on the organization, limiting its ability to attract talent.
Unlike other constituents of the recruiting process, recruiting teams have very limited visibility into how interviews are being conducted. The Smart Interview Live product offering by SHL helped conduct over 600K+ interviews in India. SHL Labs analyzed real employment interview conversations from Indian IT Software and Services hiring managers to uncover insights on the candidate experience.
Read our 'The State of Your Interview Experience Report (2022)' to discover:
How to define Candidate Experience
How to measure Candidate Experience
The interview experience insights that SHL has extracted from a large pool of interviews
Recommendation to improve Candidate Experience
Download Report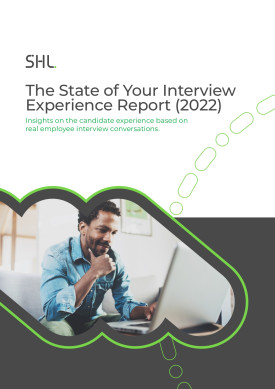 Find Out More
Contact Us to learn how SHL can help you screen thousands of candidates quickly with on-demand video interviews and provide a live, enhanced video interview experience for shortlisted applicants.
Contact Us
Explore SHL's Wide Range of Solutions
With our platform of pre-configured talent acquisition and talent management solutions, maximize the potential of your company's greatest asset—your people.