We are witnessing a global movement towards greater recognition of and appreciation for the value of diversity. Events, such as the murder of George Floyd, and the disproportionate impact of Covid-19 and the surrounding pandemic on vulnerable groups have brought to light systemic racial injustice and highlighted inequality in our society. Organizations globally are embracing initiatives to embed diversity, equity, and inclusion into the workplace with an effort to move beyond traditional unconscious bias training towards a focus on action and allyship.
As interest in this area is gaining momentum, SHL remains uniquely positioned to support broader adoption of DEI by employers through the use of our fair and inclusive talent acquisition and talent management solutions.
SHL's Commitment to Diversity, Equity, Inclusion & Accessibility
For 40+ years, we have been continuously innovating, testing, and improving our solutions with powerful and transparent AI technology and data science. Our scientific approach is designed to help reduce common biases so that organizations can make the best and fairest decisions through application of the following principles:
Fairness: our talent solutions are developed with the intention of providing a fair and inclusive experience for all candidates.
Accessibility: SHL considers the accessibility of both the assessment platform and the content itself when developing talent solutions.
Science: our talented team of scientists ensure the integrity of the psychometric properties of all of our assessments.
Research, Innovation, and Thought Leadership: we continually seek out information on the latest developments in best practice guidance.
Partnerships: in our commitment to DEI globally, we work with communities of experts and have established partnerships.
Expert Services: our professional services consultants are trusted advisers who help our customers maximize diversity, equity, and inclusion by leveraging best practices throughout the talent lifecycle.
Research shows that diverse organizations are more likely to outperform those that are not diverse, with greater representation in terms of gender, ethnic, and cultural diversity leading to greater organizational success. Discover further steps that you can take to make your organization a safer, happier, and more successful workplace.
Download Report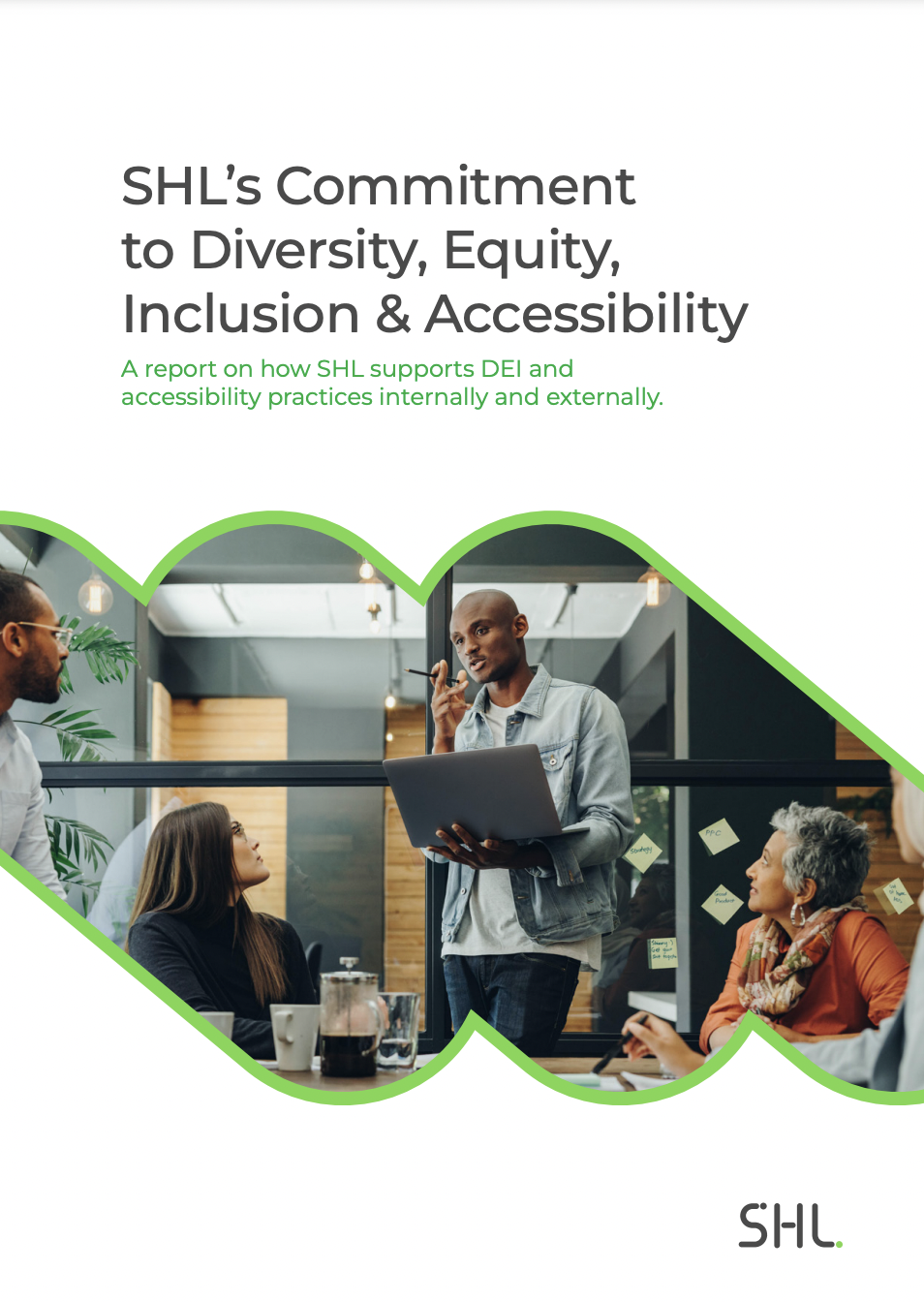 Find Out More
Experience the greatest business outcomes possible with SHL's products, insights, experiences, and services.
Contact Us
Explore SHL's Wide Range of Solutions
With our platform of pre-configured talent acquisition and talent management solutions, maximize the potential of your company's greatest asset—your people.