In a rapidly evolving work landscape, where burnout is on the rise, happiness levels are declining, our adaptability and resilience levels have been depleted, and individuals are seeking more meaningful experiences, the role of people managers has never been more crucial.
People managers hold the key to unlocking a new, fulfilling, and durable world of work. SHL's latest study reveals the skills, behaviors, and potential of people managers, which can help you transform your organization's approach to people management. Read our comprehensive white paper and discover the key findings to help you build a thriving and sustainable work environment.

Discover SHL's Manager Hiring Solution and Transform Your Organization's Approach to People Management Today!
SHL's Manager Hiring Solution Using our science-led understanding of people at work, SHL has captured the behaviors essential to success in people management roles today.
View Solution Contact Us
Download White Paper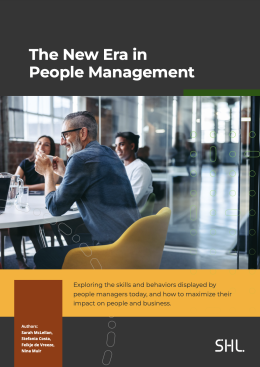 Explore SHL's Wide Range of Solutions
With our platform of pre-configured talent acquisition and talent management solutions, maximize the potential of your company's greatest asset—your people.