In many countries and industries around the world, women still do not have an equal chance compared to men to participate in the workforce. While many Western European countries have managed to close most of the leadership gap between men and women, many other countries still have not managed it according to the Global Gender Gap Index 2020.
Our study found that women possess strengths and skills that would complement the strengths of their male counterparts. Therefore, the inadequate representation of women in leadership means that 50% of our potential is missing from the workforce and leadership bench.
This paper delves into the strengths of women and their areas of opportunity in leadership roles, which can be used by organizations around the world as guidance in their efforts to improve diversity and inclusion as well as to support their talent mobility strategy.
Download our report to learn more about the strengths and areas of opportunity for women in leadership roles.
Download Report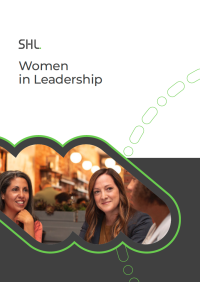 Find Out More
Experience the greatest business outcomes possible with SHL's products, insights, experiences, and services.
Contact Us
Explore SHL's Wide Range of Solutions
With our platform of pre-configured talent acquisition and talent management solutions, maximize the potential of your company's greatest asset—your people.