Increasing Gender Diversity: Women Lead in Leadership Challenges
Ken Lahti explains how organizations can double their pool of leadership candidates and dramatically improve leaders' success in roles.


It's probably more straightforward than you'd expect. The secret? Gender diversity.
This has been one of the main themes at this year's HR Technology Conference and Expo in Las Vegas, where I am writing this post from. The event is as monumental as ever, with abundant innovative technologies on display to help HR build and manage their future workforce. But some problems – like gender diversity in tech and leadership – are still very much a work in progress.
Women may make up half of the population, yet most companies report it's getting harder to find qualified female candidates for leadership positions.
The workforce is shrinking. Half the workforce is women. If we are not taking steps to attract and retain women, we won't have the skill sets we need to hit business objectives #hrtechconf #womeninhrtech pic.twitter.com/WbWxTV6ehG — Visier (@visier) September 11, 2018

White men hold 36% of entry level jobs and progress to 67% of csuite jobs. Women of color hold 17% of entry level jobs and regress to 3% of csuite jobs. Leaky pipe. #HRTechConf pic.twitter.com/on9TaZw4GT — Dani Johnson (@danij2) September 11, 2018

Companies are spending too much time on pay and not enough time on promotion and performance. Women were performing 40% better and getting 30% less money internally says @mercer's Patricia Milligan. Pay equity is a symptom of other HR issues #HRTechConf #WomenInHRTech — Erin Spencer (@erin_hr) September 11, 2018
As organizations face increasingly complex and uncertain environments, they need to find leaders with the right blend of skills and experiences to take on new challenges. Whether seasoned professionals or aspiring early-career leaders who are ready to step up to greater responsibility, identifying the right leaders for the specific challenges the team, function, or organization is facing is critical.
In SHL's recent research, we identify the 27 challenges that make or break leaders. Interestingly, we found that women are more likely to be successful in most of these business contexts. In fact, women are substantially more likely to outperform men in 21 of the 27 challenges. The graphic below illustrates the large advantages for women on four of these challenges: leading geographically dispersed teams, transforming a high conflict culture, delivering under high uncertainty, delivering high-profit margins, and operating with high resource constraints.
Women tend to have the advantage on challenge-specific leadership solutions
Example of Mean Challenge Composite Scores by Gender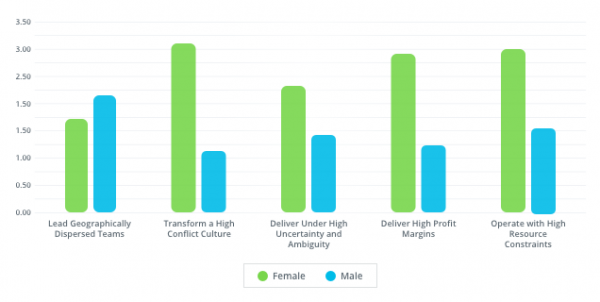 Yet, despite the urgency to find strong candidates, women are still underrepresented in all levels of leadership. What's more, companies tend to pay women less than their male counterparts too.
A new formula for leadership decisions
The reality is, decisions about leadership – recruiting and readiness – are often made without objective data. This means that decisions on who to hire and promote often don't take into account the factors that actually determine a leader's success in the role… and can introduce both unconscious and systemic biases.
Organizations invest vast amounts of money in assessing and selecting the right candidates for roles from frontline staff on the phones to sales personnel. And yet they're often not applying the same rigor, data, and objectivity to decisions about leaders, relying instead on subjective opinions about relevant experience and potential. This is even more surprising given that the impact of making the wrong leadership decision can be more immediate and more harmful to an organization's momentum, reputation, and bottom line than other hiring mistakes.
The lack of gender diversity is not only a moral and fairness issue – this is a business issue. The success of every organization depends on its ability to attract, develop, and retain high-performing leaders. Accelerating gender diversity virtually doubles the potential leader talent pool, and our research shows that women are as well or better prepared to face the most urgent business challenges.
To turn the tide, HR and business leaders must challenge some of the long-established approaches for leader selection and succession planning, moving beyond secret meetings and lobbying for favored candidates. By using predictive assessment tools and objective data, organizations can measure people's leadership potential to meet the pressing challenges of today – and tomorrow.
Find out how we can help you improve diversity and make better decisions about leadership succession and placement with SHL's award-winning leadership solution.