The Most In-Demand Job Skills You Can Learn From Home
We ranked which skills most frequently appear on job listings – along with the average salary that those jobs pay.
From YouTube tutorials to step-by-step guides available at the click of a button, there's no doubt that the internet has changed the way we think about learning and honing new talents.
With many free and low-cost courses available online, it's never been easier to pick up a new skill – so why not make it one that could boost your résumé?
SHL commissioned a research project to find which skills are the most in-demand in the US and the UK, based on the number of job ads that advertise for them. Our analysis focused on skills for which online learning is readily available – coding, design, marketing, and language. Here's what we found out…
Coding and Spanish-language skills are the most in-demand skills for jobs in the US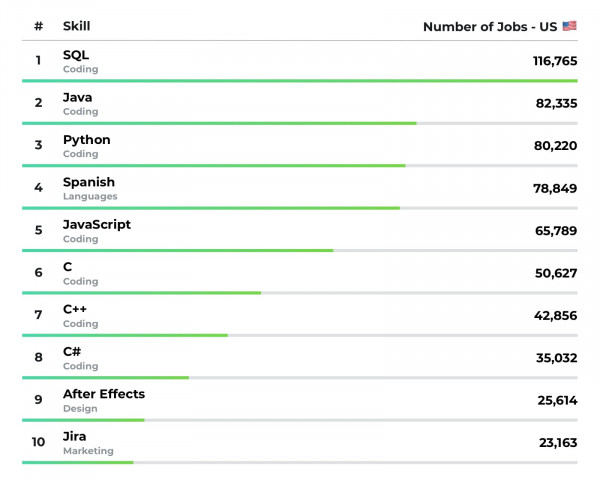 Our analysis found that more jobs look for proficiency with coding languages than any other type of hard skill. 116,765 jobs in the US matched our search for SQL, a programming language used for database management. Java and Python also rank as highly sought-after coding languages, but JavaScript and C also appear in our top ten list.
Spanish, spoken by around 43 million people in the US, ranks as the most in-demand language for jobs on LinkedIn. In the design category, 25,614 job postings matched our search for the Adobe application After Effects, which is a specialist program for motion graphics.
UK jobs need coding skills, French and German speakers, and SEO expertise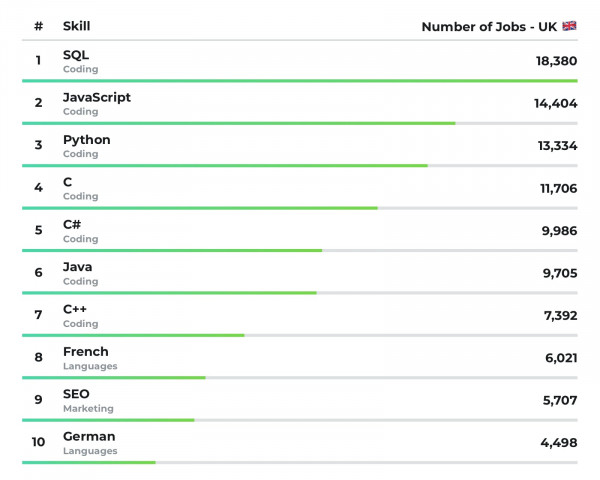 As in the US, coding skills are highly sought-after by recruiters. The top 7 spots in our ranking of the most in-demand job requirements in the UK are filled by different programming languages, including SQL, C#, and C++.
Those looking to pick up a new language to enhance their résumé would do well to study French and German, with 6,021 and 4,498 roles in the UK respectively looking for speakers of these languages. Search Engine Optimization (SEO) matched 5,707 roles we searched on LinkedIn, making it the most in-demand skill in the marketing category that we found.
So, certain hard skills are highly desirable on the job market … but does it pay to learn them?
To gain a better understanding of the caliber of jobs appearing for each skill, we also analyzed the average salaries of the jobs matching our skill keywords on Adzuna, a search engine focused on job sites. Here's what we learned.
The highest-paying jobs in the US are looking for coding skills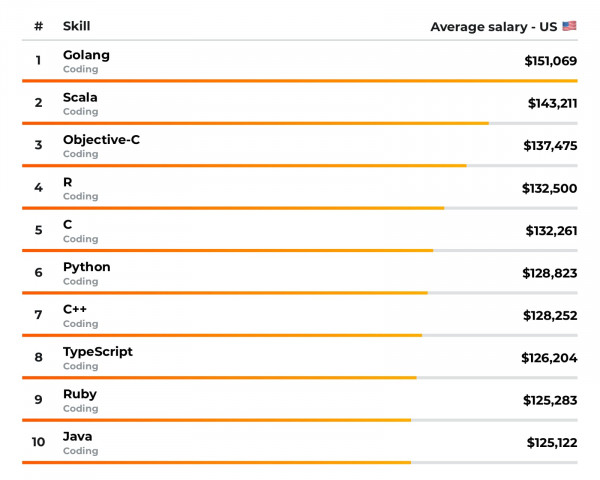 Jobs that require certain coding skills can pay six-figure sums, on average, depending on which language an applicant is proficient in. The highest-paying programming language is Golang – officially known as Go – with US jobs that require this skill paying an average of $151,069 at the time of writing.
Go is used by big-name brands such as Google and Twitter for large-scale network programming, and it is less likely to appear on a résumé than more common languages, such as JavaScript and Python. According to Stack Overflow's latest survey, only 8.2% of developers worldwide use it.
Coding skills and Figma are most sought-after in the UK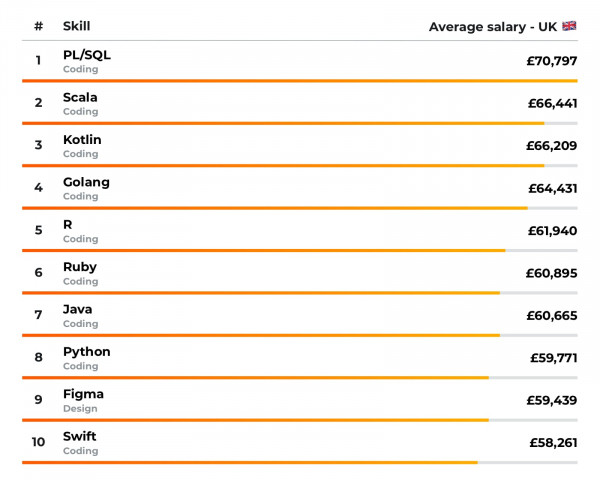 Our analysis found that, as in the US, coding skills are paid extremely well. While Scala and Golang appear in our UK ranking too, PL/SQL (which stands for "Procedural Language extensions to SQL") is the skill rewarded by the highest average salary (£70,797).
Jobs that demand knowledge of the popular cloud-based design program Figma also offer an impressive average salary of £59,439.
Learn These Skills from Home
Where to learn the most in-demand coding languages online
It's clear that the most valuable skill you can pick up at home is coding – so where do you start? There are plenty of online resources to move from a beginner to a professional coder in whichever language you choose. We have listed below some resources to learn the most in-demand coding languages, such as SQL, JavaScript, Python, and Java.
Free Code Camp (free)
More than 40,000 people have taken advantage of this free resource and gone on to land jobs in the tech industry, including at some of the most prestigious tech companies, such as Google and Apple.
Codewars (free)
This free resource for learning to code encourages collaborative learning by featuring tons of challenges for most languages, including JavaScript, SQL, Python, and Java.
Udemy (price: dependent on course)
There are thousands of coding courses available on Udemy, including 582 JavaScript, 460 Python, and 281 Java. Stephen Grinder is one of the most popular tutors to follow on the platform, with more than 550,000 people having signed up to learn from his videos.
Free training to boost your marketing résumé
Both entry-level and experienced marketers can benefit from a host of online courses in SEO, analytics, and project management tools. There are 10,405 job ads in the US advertising for SEO skills, and 23,163 job ads requiring experience with Jira, a project management platform. These are the industry skills most demanded by jobs on LinkedIn.
SEO: Moz Beginner's Guide to SEO (free)
An excellent general resource for the SEO industry, Moz's Beginner's Guide to SEO features eight digestible chapters that are free of charge for somebody to learn the ropes of search engine optimization.
Jira: Atlassian University (free)
The creators of Jira have made their 'learn from home' training package free for the month of May. It covers all of the essentials of Jira's administration and workflow capabilities.
Google Analytics: Google Analytics Academy (free)
Understanding web analytics is an essential skill for anyone wanting to improve the online performance of a business. The Google Analytics Academy's courses are free and provide teachings on Google Analytics for both beginners and advanced level learners, as well as an introduction to Google's Data Studio.
Affordable courses to sharpen your design skills
US-based job applicants who are skilled in UX design or animation will find jobs paying more than $100,000 for their services, while proficiency in Adobe products is being sought by tens of thousands of job postings in the design sector. There are plenty of online courses and tutorials available to those wanting to improve in this area.
Skillshare (free 2-week trial; subscription thereafter)
This is an excellent general resource and community for learning many of the skills highlighted in this analysis. Skillshare provides thousands of classes for the creative and curious, including many tutorials for designers that wish to learn any of the sought-after Adobe products, such as After Effects, InDesign, and Photoshop.
Udemy (price: dependent on the course)
The second time Udemy makes an appearance on our list of recommended resources, due to its immense offering of courses for different skill sets. Their Adobe offering includes 393 tutorials on Photoshop, 281 on Illustrator, and 184 on After Effects.
Domestika (price: starts from $9.90)
This online resource for creatives brings together professionally designed courses from hundreds of expert instructors. There are 31 courses listed that specialize in various Adobe design products, including Illustrator, InDesign, and Photoshop. The courses are taught in Spanish, but available to view in English subtitles.
Learn a language that recruiters are looking for
Our analysis found more than 140,000 jobs in the US and over 26,000 jobs in the UK advertising for foreign language speakers. Multilingual individuals have a definite advantage when it comes to job hunting, and here are some free and affordable online resources to help you on your way.
Duolingo (price: free)
There are more than 30 languages available to learn for free on Duolingo's platform, including the UK and US job markets' most in-demand languages – Spanish, Chinese, French, and German. It's available on desktop and mobile, and the gamified approach to learning helps users stay motivated to stick with the program.
Babbel (price: best value is $6.95 per month for 12 months)
Fourteen languages are available to learn on Babbel's subscription-based mobile and e-learning app. The courses are crafted by language experts, and voiced by native speakers, in order to set learners on their way to obtaining conversational skills that can be applied to real-life situations.
While it is a difficult time for businesses to plan for the future, it can be reassuring to those who are thinking of looking for a new opportunity to see that companies are still hiring for certain positions in the tens of thousands.
Having the appropriate set of skills will enhance your résumé and put you in a better position to earn more money in even the most challenging of times for the wider economy.
Learn more about how SHL helps individuals and organizations succeed in this new remote work environment.
Methodology:
Our analysis considers 1,009,059 active job advertisements on LinkedIn on 30th April 2020. Average salaries per skill were sourced from Adzuna, and represent the average salary that is listed for a job advertisement containing that skill.