The Butterfly Effect— How Covid-19 Transformed Campus Recruitment
Let's peek at how Covid-19 has created a strong case for virtual campus recruitment and how to ensure a long-term, sustainable digital hiring strategy.
In these current times, the world faces a constant threat of disruptions, lockdowns, regional and national border closures among others, caused by the raging Covid-19 pandemic. The effect of the pandemic has been immense in different ways on both our personal as well as professional lives, but one thing has helped us navigate through these unprecedentedly tough times: technology. A slew of tools and platforms, and even social media have helped us stay connected and productive in a physically distant environment, ensuring a quick flow of relevant information. This has also impacted the field of recruitment, such as campus hiring.
The Target Demographic
Gen Z, a group among which 96% own a smartphone and for whom technology is as much a part of their life as breathing, are the ones any company would want to cater to and capture the attention of. It is also the most diverse cohort with people from diverse backgrounds, economic and social statuses, and educational levels all coming together onto the same platform due to the all-pervasive and inclusive nature of technology.
In the workplace, this generation also tends to value flexibility in their schedules, autonomy to take strategic decisions, and constant feedback from their managers. They want to work for a company that shares their values and is equally invested in their career advancement.
The employee experience begins with the recruiting process. This is not just the candidate's opportunity to shine; it is also a golden opportunity for the company to create that stellar first impression and spotlight its unique characteristics. Hence candidate experience during the recruitment journey has become an integral part of the overall employer value proposition.
Gen Z, a group among which 96% own a smartphone and for whom technology is as much a part of their life as breathing, are the ones any company would want to cater to and capture the attention of.
Then—pre-Covid-19 scenario
For ages, campus recruitment was a rote process, as if almost cast in stone. Business and HR stakeholders would visit different campuses, make their presentations, have a well-defined standard process, and select candidates, and go back. There was a continuous competition to get the first set of slots so that they could clinch the crème de la crème of the batch.
Now that might seem like a distant memory as Covid-19 has turned the entire process on its head. The questions companies have had to grapple with over the last year were: "What now? What next, and where do we go from here?" The will to move forward is there, but how to is the big question. The previous landscape had companies investing heavily in getting the best possible hires. Now with the ready availability of talent, organizations must have a clear recruiting strategy and give way to change as the future of recruitment has arrived with everything going virtual. Becoming a high-volume recruiter with a successful track record now depends on how well the organizations evaluate candidates holistically, not just on basis of scores or pedigree, but on the competencies and skills they possess.
Early impact
At the onset of Covid-19, companies had reached a stage where they had the list of campuses finalized, the dates decided, but were not sure how to go about the overall process. The need of the hour was completely virtual hiring with inclusive outreach programs, mobile ready solutions, strongly proctored assessments to maintain the integrity and capability to provide quick results along with end-to-end service delivery. This is where they started looking for comprehensive support from assessment companies with standardized and well-structured processes. Those providers who had all these features already built in were the clear winners and they capitalized on the first mover advantage. They gained a loyal clientele of people who saw value in the offerings and decided to promote them internally.
Now—post-Covid-19
Companies that have power to sustain their current momentum, and plan for the future, attribute their stability during the pandemic and growth there on, to advancements and adoption of technology and their ability to adapt on the fly. As the pandemic continues to accelerate digital recruiting strategies, organizations are moving quickly to adopt virtual hiring platforms to conduct video screening and interviewing. These strategies which were conceptualized as stop-gap arrangements, have delivered value much more than anticipated, and have cemented their position in the campus.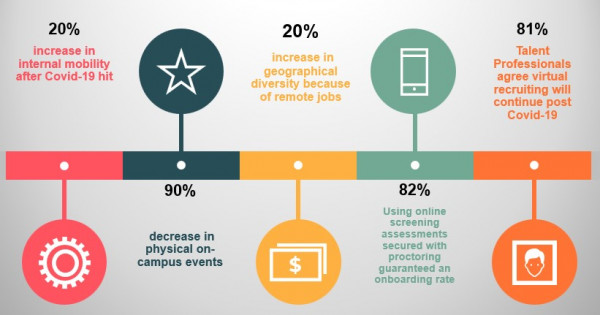 Some of the recruiting tactics that are widely used today include:
Technology backed omnichannel sourcing campaigns for talent
End-to-End Automation for communications, tracking, and interview scheduling to the point onboarding
Rigorous virtual

a

ssessment

centers fortified by powerful system-driven proctoring features
Virtual interviewing – Both synchronous and asynchronous
Pre-onboarding engagement
Way forward and focus areas
Although business continuity efforts took a front seat during the onset of stay-at-home orders, there are continuous refinements underway to ensure digital hiring becomes the long-term sustainable solution.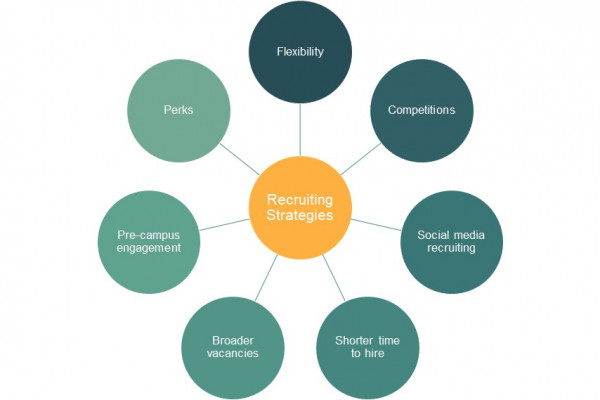 More focus on comprehensive job mapping

– Profile-based design of assessment centers that help create a comprehensive framework encompassing behavioral competencies and skill-based capabilities
Campus reach out programs and candidate engagement

– Continuous and meaningful outreach programs that help engage talent early and keep them constantly hooked in by ensuring frequent touchpoints
Virtual Assessments

– Science-backed, reliable and valid assessments delivered through cutting edge technology platforms that are interactive and are high on accessibility for candidates while providing robust, actionable results and insights for recruiting organizations
Interviews

– Seamless interviewing experience through tools that can help simulate an in-person session in a digital platform. AI and ML-based automated insights on standardized competencies help automate the recruitment journey and reduce manual intervention drastically
Onboarding

– Furthermore, onboarding is now being done via video conference and companies have to move their learning and development (L&D) programs online to deliver more eLearning materials and virtual trainings than ever before.
So, here is to a better and faster virtual campus recruitment of quality candidates who would shape the vision and future of your organization.
Contact us to learn how we can help you in your talent acquisition strategy.
Co-Authors