ChatGPT: A Friend or a Foe?
ChatGPT is all that everyone can talk about. Some see it in a good light, while others have been weary that this new AI tool could spell the end of their careers.
ChatGPT, the cutting-edge language model developed by OpenAI, is revolutionizing the way we work in the content creation space. From conducting research and writing reports to answering questions, ChatGPT has taken the world by storm and the use cases for this new tech are tenfold. But with that, the question on everyone's minds has been, "Is AI really taking over the world, and is my job now in jeopardy because of it?"

As a marketer, whose job is mainly focused on content creation and copywriting, I felt a little unnerved by this new "rival". An AI tool that can help organizations create content in a matter of minutes, does raise some flags. If ChatGPT can write just about anything, why would there be a need for marketers like us?

The answer to that is, as much as ChatGPT can produce human-like text, it cannot replace our originality and creativity–the unique perspective that we bring to the table. We know our audiences, so when we create content, it is with keeping our target audience in mind–their needs and preferences. Our quirks are something that cannot be replaced by ChatGPT. Instead, it can be used as a tool to generate ideas when writing content, whether it is a blog or a business proposal. We usually try to bounce ideas off our colleagues to get a fresh perspective. That may be difficult to do when you are part of a global team working across time zones and are chasing deadlines. ChatGPT can be your around-the-clock helper. In fact, I see it as a great way to avoid and overcome writer's block!
As much as ChatGPT can produce human-like text, it cannot replace our originality and creativity–the unique perspective that we bring to the table.

How does ChatGPT make our jobs easier?
According to ChatGPT itself, the AI tool can be very useful for those looking to improve the efficiency and effectiveness of their tasks.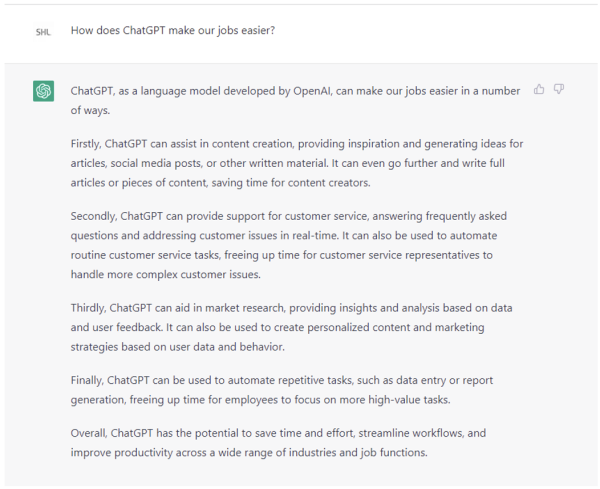 Here are a few ways that we can use ChatGPT to our advantage:
Reduce time spent brainstorming by using it as an ideation tool–what would take you hours to draft can be done in a shorter period of time. ChatGPT can help draft formal business proposals and FAQs, and also help students with their CVs.
Get a quick summary on a specific topic. This saves you a lot of research time – you can access the information you require from a single source, as opposed to going through multiple web pages.
ChatGPT can help in translating text from one language to another. This can be especially helpful for communication with people who speak different languages or for accessing information that is not available in your native language.
Automate repetitive or time-consuming processes, such as data entry or customer service inquiries. By programming ChatGPT to perform these tasks, you can free up time to focus on more complex and creative tasks.
ChatGPT can also act as a virtual personal assistant, scheduling appointments, setting reminders, and even sending emails or text messages on your behalf.
Overall, I think ChatGPT can help you be more productive. Its ability to understand and respond to natural language input makes it a valuable tool that can aid in improving and streamlining processes, as well as saving time. By using ChatGPT, we can focus on more complex and creative tasks and make more informed decisions, which can lead to more efficient and effective efforts in our everyday jobs.

While AI will not replace you, in this digital age, a person using AI or one who is familiar with it will. So don't knock it till you try it.

And finally, to answer the burning question, "ChatGPT, friend or foe?" – I'd say friend.

Did you enjoy reading this blog? Explore our blogs for more insightful perspectives and workforce trends.