Employee Motivations Have Changed, and So Should Your Strategy
A hefty package? That is not enough to keep the employee motivated. With changes in the ways of working SHL Labs observes a change in employee motivation.
Pandemic, work from home, hybrid working, back to office, the Great Resignation, moonlighting, quiet quitting, depression, layoffs—these are terms that have surfaced frequently in the past three years, and indeed, these changes have been a lot to process for the talent industry.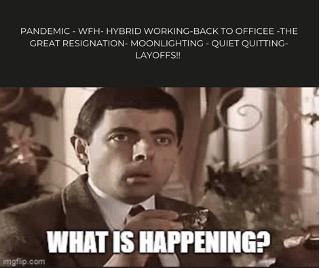 With these major upheavals often come major changes in the way people think about their lives and their priorities.
With the continual changes experienced by employees and employers over the past few years, leaders have experienced new obstacles to driving employee efficiency, engagement, and overall well-being. As the boundaries between work and home became fuzzy, maintaining employee motivation became a daunting task with conventional strategies. To overcome this, organizations have had to broaden their focus to include the realm of personal life, health, and family. In some cases, managers are experiencing a new reality where they need to lead from a distance, separated from a physical standpoint.

Leaders have the responsibility to drive employee efficiency and to ensure employees remain engaged in their work. Those that take the time to prioritize a comprehensive understanding of their employees' motivators and demotivators will be better positioned to help their teams meet goals, remain engaged, and be satisfied at work.

A perennial challenge for any company's management is to motivate employees not merely to participate in the activities of the organization, but to expend reasonable amounts of energy in the pursuit of its goals and objectives. Therefore, assessing employee motivation is of vital importance. SHL, a talent management and acquisition company with 45 years of experience, has a unique advantage in analyzing people's behavior and motivations using 40 billion data points. The Motivation Questionnaire (MQ) by SHL assesses what situations are likely to increase or reduce an individual's motivation at work. It provides a comprehensive profile of the 18 motivational factors that affect an individual's performance and drive to succeed. By understanding what motivates an individual, it is possible to unlock each individual's full potential and direct their energies more constructively. The analysis leveraged results from 70,000 candidates who completed the MQ between 2016 and 2022.
Making work as smooth as play
Motivation is largely influenced by personal factors such as culture, age, experience, and phase of life. However, there are also systematic trends that can be observed at a population level. One such trend is the gradual increase in candidates who get demotivated by immersion and flexibility. Here immersion is defined as candidates feeling demotivated if their job requires commitment way beyond 'normal' working hours. Meanwhile, flexibility here ( low score ) means people prefer having rules with tightly defined job objectives. This trend can be seen in the graph below which shows the percentage of candidates who score in the low range for these motivators over time.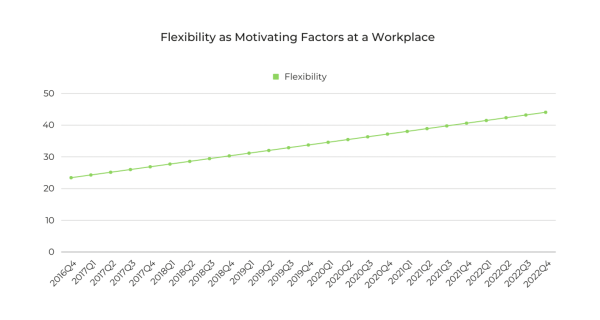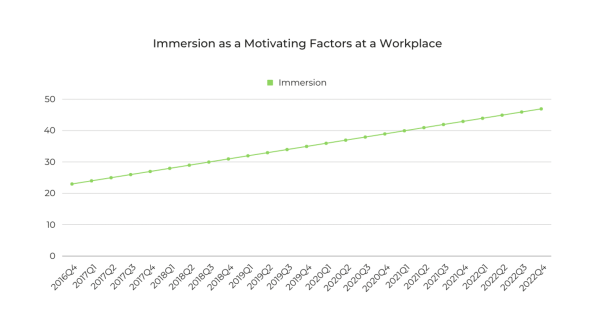 Immersion
After tasting the work-from-home lifestyle where the lines between work and life were blurred, employees now prefer working in an environment that has a clear boundary between work and life. Having to work beyond work hours is a clear demotivator for employees now. They prefer working within office hours with clearly defined roles and responsibilities. More than 80% say they seriously consider how a position will affect their work-life balance.

These two systematic changes over time suggest that workers are becoming demotivated by jobs where work encroaches into their homelife while being less motivated by work that has high levels of flexibility in the work processes and systems Employers must recognize that work-life balance has become a top priority for many employees, and flexible work arrangements, such as remote work or a hybrid model, are seen as key motivators. Additionally, employers must be transparent and open in communicating and delegating work and providing employees with the resources and support they need to succeed in their roles. employees with the resources and support they need to succeed in their roles.
Ease and security of job: vital for employees to stay motivated
With our LinkedIn feeds filled with the news of major industry giants laying off employees in bulk, there is a conundrum in the air. It has been observed that the fear of losing a job can be a deterrent to staying motivated at work. A little reassurance from the employers' side for employees' work performance can do wonders. It is important to regularly inform team members of their job security and to know that they are a valuable asset to the company. Analysis by SHL labs shows a clear rise in the trend line which means that job security and employer reliability have now become huge factors in motivating employees at work.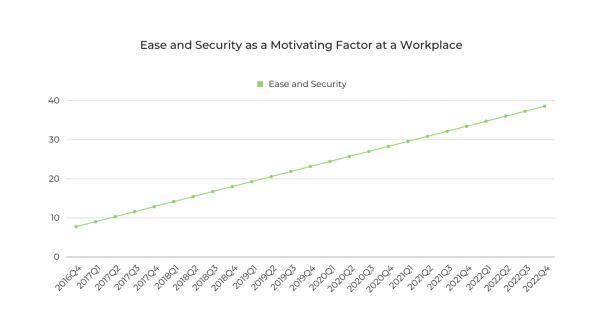 Beyond pay cheque: understanding what employees really want
Personal growth and progression are two other parameters where SHL Labs saw a significant spike. While a competitive compensation and benefits package is still important, employees are increasingly looking for a fulfilling and meaningful work experience that provides an opportunity to learn and grow. Now the employees feel motivated in the workplace where a clear path of job advancement is emphasized upon. Employees who feel that they are stuck in one position and have no opportunity to grow within a company are more likely to become burnt out and look for other job opportunities. Giving employees an opportunity to increase their skills and become more relevant in their positions instills a sense of accomplishment and pride that acts as a strong motivator for employees. Plus, offering employees the chance to hone their skills can ultimately impact an organization's overall success, making it a win-win situation for all involved.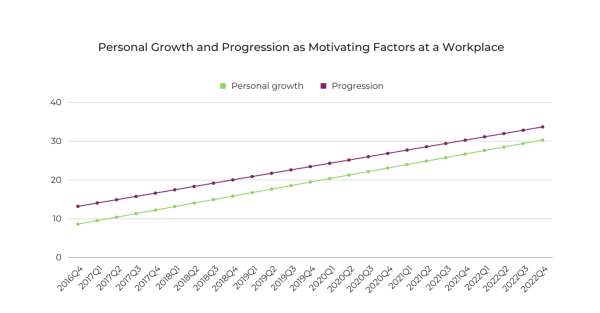 Key takeaways for leaders and organizations
Employers must prioritize work-life balance and offer flexible work arrangements to motivate employees.
Ease and security and employer reliability are crucial for maintaining employee motivation.
Providing opportunities for personal growth and career advancement can be a strong motivator for employees and lead to overall organizational success.
In conclusion, organizations must recognize that employee motivations have shifted and adapt their strategies to retain their talent effectively. This requires a holistic approach that focuses on employee well-being, work-life balance, job security, and opportunities for growth and development. By prioritizing these factors, employers can create a supportive and inclusive workplace culture that truly motivates employees to do their best work.

Check out SHL Labs' resources library for more insights on workforce trends.
Co-Authors