Maximizing Joy: How Positive Psychology Saves Lives
An inspiring story of positive psychology based upon the life experience of Julie Stevens who has beat stage 4 colon cancer, and how learning to live these concepts can potentially change your life as well.
In my junior year of college, I was fortunate to work in a service job that many of my co-workers did not enjoy. It fascinated me that we were in the exact same work environment, but our experiences of the job were so different. I would jump out of bed at 4:30 am, excited to get to work and see who I could meet that day. They, on the other hand, would count the minutes until they could go home.

Given this experience, I decided to switch majors to Industrial Organizational Psychology (I/O psychology)–the scientific study of the workplace. It allows us to understand who would be a great fit for a job and which personality or motivational factors could be at play in job satisfaction.

Studying I/O Psychology has been quite rewarding and can ultimately help people find jobs they love.
Positive psychology
In the first year of my MA program at The University of West Florida (UWF), the Director of our School, Dr. Laura Koppes Bryan, introduced us to the concept of positive psychology, which is an interdisciplinary science that examines optimal human functioning, including well-being. This essentially takes concepts of I/O psychology and incorporates positive emotions, engagement, relationships, meaning, and accomplishments.

That year, we learned Harvard's course in positive psychology had the highest enrolment of all courses at Harvard. Given this, we created the course at UWF. I then had the incredible opportunity to teach under Dr. Bryan and share the practices of positive psychology with our students to help inspire them to live better lives. Across the board, the feedback was positive, and we found fulfillment in our work and teaching. While teaching positive psychology was very impactful for all, learning to live these principles, especially in the workplace, is truly inspiring.
Positive Psychology takes concepts of I/O psychology and incorporates positive emotions, engagement, relationships, meaning, and accomplishments.
Incorporating positive psychology through maximizing joy
Fast forward to last summer when I was considering a job offer at SHL. I came across the profile for Julie Stevens, a leader in the Americas Commercial Team at SHL and also CEO of Maximizing Joy. I was intrigued.

Julie has a 20-year history working in the field of I/O psychology across many different roles and locations. Now that I have the pleasure of knowing and working with Julie, I have learned how she lives her mantra to Maximize Joy and how she incorporates the philosophy of positive psychology into her daily life.

She is a survivor of stage 4 aggressive, inoperable, and chemo-resistant colon cancer and has done so by choosing joy over fear! Day in and day out, she lives by 10 key pillars which she calls her prescription for MOJO (or More Joy):
Maximize Joy
Minimize Risk
Be a Good Person
Be Worth Knowing
Know Your Worth
Do No Harm
Live in Gratitude
Believe
Knowledge is Power
Energy is Everything
Across the next several weeks, Julie's story and strategies will be shared for the first time via SHL's podcast, Smart Teams. In the last episode of our multi-part series, I have the pleasure of interviewing her and diving into how her background in I/O psychology and practices rooted in positive psychology have saved her life.
Can positive psychology save lives?
Dr. Bryan says, "Several practices have been developed and supported through empirical research for enhancing our happiness and well-being. Particularly compelling are strategies used in workplaces as well as for healthcare.
There has been a growing body of research that links positive psychology to better mental health and physical health. For example, optimism and hope in patients with cancer have been investigated. Researchers have noted that higher-hope patients coping with cancer or undergoing chemotherapy had a more optimistic approach for coping and were in better moods."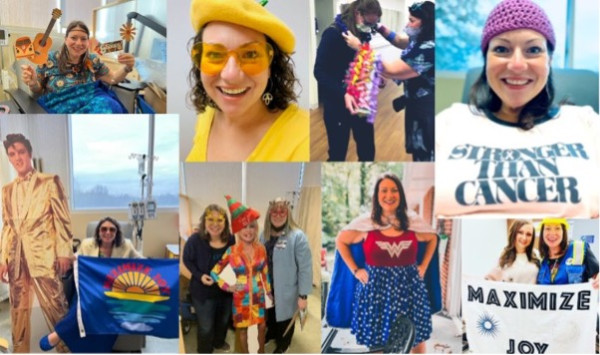 Part of Julie's cancer strategy was specific to positive psychology. She intentionally strategized to build a mental environment that was focused on healing, strength, power, joy, peace, gratitude, and love. So as part of her approach, she avoided watching scary movies and started watching superhero movies, she surrounded herself with a huge network of support, and she only read positive news stories.

Julie certainly leads with optimism and hope and has even thrown multiple theme parties during her treatments (Luau, Superhero, Gratitude is Groovy, Happy Dollydays, When Life Hands you Lemons, Measure what Matters, and Hunka Hunka Burning Love). In the forthcoming podcast series, she will share how she assembled her team of doctors and applied strategy to save her life.

At work, positive psychology can be a powerful tool for managing crises, including burnout which has become increasingly common in organizations across the globe. When facing challenging circumstances, it is easy to feel overwhelmed, anxious, and demotivated. However, by focusing on positive emotions and developing resilience, individuals can better cope with stress, improve their overall well-being, and find meaning and purpose in their work.
Looking ahead
Throughout the month of March, to celebrate International Women's Month, I am excited to share the stories of two additional colleagues and friends, Jill Levine and Pam Oldham. Both are also survivors of stage four cancer and will share the strategies they used to stay strong throughout their journeys.

While you will see a few key themes among their stories, Julie, Jill, and Pam each have unique perspectives they will share with us. I hope you will find inspiration and encouragement from the experiences of these remarkable women. Until then, let us Maximize Joy!

If you would like additional resources on positive psychology, please visit:

Prescription MOJO

Positive Psychology Center

Historical Perspectives in Industrial and Organizational Psychology, 2nd Ed. (2021, Routledge)

Michigan Ross Center for Positive Organizations

Greater Good Science Center

International Positive Psychology Association
Biographies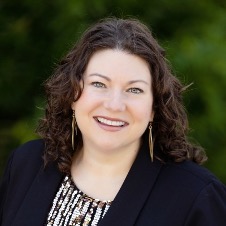 Julie Stevens currently leads SHL's Indirect Commercial Team and using I/O strategies, she has pivoted through her Stage 4 colon cancer journey with precision and speed. In 2010, she worked with the American Hospital Association to redefine the talent requirements and has been published in Modern Healthcare on how to develop strong Physician Leaders. Up next, Julie will be presenting at the SIOP Conference with the session "A Force for Good: How Organizations Can Help I-O's Change the World" in Boston, April 20, 2023.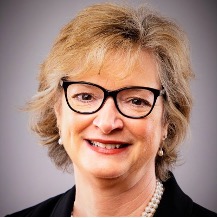 Laura Koppes Bryan is the inaugural T.G. Lewis Faculty Scholar in Organizational Behavior with an emphasis on positive psychology at the University of Kentucky Lewis Honors College. She is a U.S. Fulbright Scholar and a fellow of the American Psychological Association, the Association for Psychological Science, and the Society for Industrial-Organizational Psychology. As a teacher-scholar-practitioner, Bryan cultivates positive, inclusive workplaces and is dedicated to a student-centered pedagogy for helping students understand their purpose and place in the world of work. She is the founder and CEO of LLBryan Consulting, a collaborative of professional experts who provide coaching, consulting, evaluation, and workshops to inspire leaders to develop positive organizations that empower individual employees and groups to thrive in the workplace.
Keep an eye on our website and social media as we will have more content to celebrate International Women's Month! Meanwhile, listen to our latest podcast where Julie Stevens talked to Cosmo Leone about how she applied her I/O psychology background and experience at SHL to find the perfect healthcare team that saved her life!