SHL's ongoing Neurodiversity Research Program, part of SHL Labs, exists to gather and inform evidence-based best practices and to create selection tools that provide an inclusive experience in which all candidates can perform to the best of their abilities without the need for adjustments.
What Is Neurodiversity and Why It Matters
Our "Assessing Neurodiverse Talent" white paper aims to outline why neurodiversity is an important topic for organizations and to share tangible insights that can drive best practice recommendations for assessing neurodiverse talent.
The underemployment of the neurodiverse population presents a significant opportunity for organizations to recruit and hire talent to leverage their strengths and impact business outcomes.
SHL has committed its research program to help begin to define evidence-based best practices for serving this talent pool, with a focus on Diversity, Equity, and Inclusion (DEI).
Download White Paper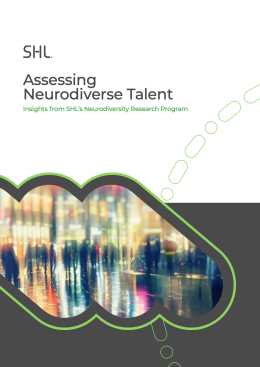 Find Out More
Discover SHL's Neurodiversity Research program insights to learn how the unique strengths of neurodivergent people can be applied within a variety of roles.
Contact Us
Explore SHL's Wide Range of Solutions
With our platform of pre-configured talent acquisition and talent management solutions, maximize the potential of your company's greatest asset—your people.