Gather Together (Virtually) to Celebrate Holidays from a Safe Social Distance
Going digital isn't just for businesses. Families and communities around the globe are preparing to take their upcoming holiday gatherings online.
For many, early Spring is as much a holiday season as is the one we all know and love in the winter. Families gather worldwide for Easter brunches and mass, Passover seders, colorful Holi celebrations, and Eid feasts to end Ramadan. This year, that picture you have in your head, of those meaningful, spiritual, and celebratory traditions, will undoubtedly look and feel very different.
I come from a family that loves a Passover seder. We love it so much that we start preparing for it months in advance. Every year, we try something new, invite new people, try new recipes, or change the format. The Seder is not just a meal, it's dinner and show. We spend hours brainstorming new ideas, adding more meaning and enjoyment to the activities for our Seder guests.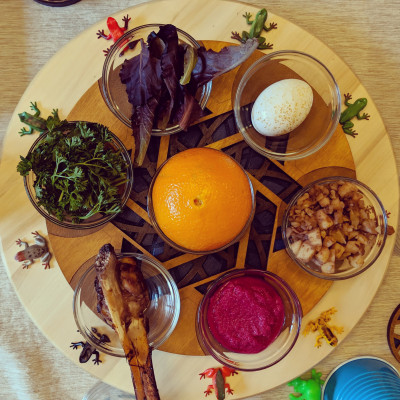 So, here we are in 2020 and everything we've come to look forward to this season has been shrouded in uncertainty or simply canceled, indefinitely. But it is still Spring outside (in the Northern Hemisphere), and just as the trees and flowers are impetuously blooming, our holidays and annual celebrations must go on as well.


We Have the Technology
As it turns out, there are nothing but options available to us the moment we decide that—pandemic or no pandemic—my event is happening. You've seen this all over the world, in every context. Business meetings, job fairs, conferences, networking sessions, interviews, and happy hours are all still happening virtually. You've probably heard from friends that you don't see very often inviting you to a virtual movie or game night. The technology at our fingertips makes so many different types of personal connections possible, right now, and it's probably more frequent.
When you apply these virtual transitions to holiday gatherings and special occasions, believe it or not, these events are not too hard to make digital. 
The date is scheduled months or even years in advance. 


There's a pre-determined itinerary or schedule of events.


You have years of traditions to pull ideas from (consider your favorite food, activity, or story from past events).


You probably already have a digital RSVP system set up, be it email, web invitation, or social media.

The Benefits
Consider the benefits of not traveling or gathering for live family events:
You don't need to factor in complex travel arrangements, traffic, finding parking. 


You only need to cook for your household.


Your cranky and hangry guests can attend and also "stay home".


Think of your reduced carbon footprint.


No one has to miss the event because they're sick or can't travel.


This all adds up to the question: "Why didn't I take my holiday virtual years ago?!" 
The Naysayers
There will be people in your friend group or family who do not see the point of having a virtual holiday. For them, they may see the holiday event as the only time each year we get together. And if they can't hug each loved one and feed them, then why bother? 
The hardest part of all of this is convincing your guests that this version will be fun too. Rather than cleaning your whole home, preparing food for a dozen people, and hitting the grocery store five times, you can focus your energy on making the virtual celebration engaging and interactive.
All you can do is ask them to give it a try. Assure them that the technology you're using will bring us all together in the safest and best way we can right now. Connecting with loved ones in any way is certainly better than not at all. Then go back to planning the best virtual holiday you can.

Helpful Tips
To prepare our virtual Passover Seder, my brother and I have had several quick planning calls, we brainstormed alternatives to in-person activities, we tested out new-to-us technology, and we are (as you read this) easing our family members into embracing this technology as a viable alternative.
Here are some realistic things anyone can do when preparing for a virtual holiday:
Expand Your Guestlist
This is an opportunity to invite people that haven't been able to join you in years. Maybe they live far away or have always had other plans. This might just be the year you pull them back in.


Enable Your Guests to Participate
Send recipes, teasers, and tips ahead of time. Let your guests know how you'll be preparing for the event and help them do the same.


Dress for the Holiday You Want
Treat it like the real holiday, dress up for the occasion. Perhaps you already bought an outfit for the celebration, wear it anyway and show it off on the video chat.


Play Virtual Games
Activities for kids (and adults who like a little competition) are entirely possible. Virtual scavenger hunts are all the rage. Create a list of things that people can find in their home, or interpret using items in their home, and have them bring the items back to the video chat for scoring or voting. There are also many board-less, card-less games that you've played in long car rides for years, those are great for this venue too.


Brace Yourselves and Sing Together
It's hard to sing songs together over video chat, in fact, it can be chaos — but songs that have a call and response or an easy, catchy chorus can turn the chaos into slightly organized chaos… and fun.

At the end of the day, gathering, in whatever way you can, will help your loved ones feel connected. If you can have a laugh, uphold some traditions, and make new memories along the way, you can consider it a success!
Wishing you all a healthy, festive, and virtual Spring holiday season.