How Artificial Intelligence Can Boost Your Talent Assessment Process
Navigate the complex landscape of AI and reap the business benefits through SHL's best practices for AI in talent assessment.
The use of artificial intelligence (AI) in HR technology is growing rapidly. Talent assessment is in the early stages of evolution – combining artificial intelligence and modern digital technology. Many of the drivers of this evolution have come from outside the field. For example, the widespread availability of computers and the creation of the internet have led to the development of online Computer Adaptive Testing (CAT) assessments and applications.
AI in assessment mostly refers to any non-human analysis of a participant's response that uses machine learning, and related modeling techniques to assign scores related to people's attributes or people's expected results/behaviors.
AI will undoubtedly have a strong impact on how organizations evaluate their talent. But it doesn't stop there. The benefits of AI in assessments can have a much wider impact across the organization.
Many organizations are quickly adopting AI applications in their talent assessment processes because there is strong evidence that this will increase sales revenue and net promoter scores. Linking assessment data to business outcomes can have a far-reaching effect that improves employee performance and efficiency throughout the organization. These tools allow businesses to harness the potential of their greatest asset – their people.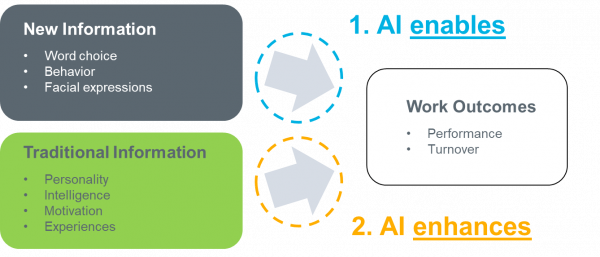 AI in assessment does not refer to a specific approach or method of evaluation. AI can be applied to the scoring of responses, i.e. numbers, of different assessment methods, including but not limited to:
Asynchronous digital interviews (video, audio, text)
Live/synchronous digital interviews
Constructed response situational judgment test (SJT) and multimedia situational judgment test (MMSJT)
CV data, technical skills, language, work simulation programming
Reading of texts like essays, cover letters, e-mail, and other written work products
Role-playing games, business cases, presentations and other examples of work or simulation exercises
Uncertainties remain about the use of AI in assessing talent, as its compatibility with traditional methods and procedures is unclear and legal regulations are slowly developing. It becomes important to agree on what is off-limits when it comes to technology. Read about the 4 Imperatives for AI Assessments.
6 Best Practices – How to get started with AI in Talent Assessment
We developed 6 best practices for AI in talent assessment; they were researched and vetted by a team of over 300 occupational psychologists in the Human Resource Tech industry. The best practices are:
#1—Identify Data Requirements
The use of poor quality data, data that is not sufficiently representing the population, or that fails to keep the data private and protected, could have potentially serious consequences, both in terms of financial penalties and brand reputation. Therefore, a thorough consideration of data requirements before designing and developing an AI assessment is of paramount importance.
#2—Priority to Transparency
Transparency in an AI assessment may include a description of the characteristics assigned by the assessment, any constructs and/or characteristics to which the characteristics are related, and some information on how the characteristics are combined to produce a score. The level of information provided should vary depending on the end-user.
#3—Design for Fairness
The development of an AI assessment should start with fairness. Take measures to proactively remove or reduce distortion from AI assessment during its design and development. Do not rely only on a single distortion test after the development of AI assessment.
#4—Rigorous Validation
AI assessments should be maintained according to current standards and guidelines regarding the tests, required to demonstrate validity.
#5— Incorporate Human Oversight
Design AI assessments to have human oversight throughout its development and deployment. No AI system should make a final decision (e.g. determine who to hire) without the possibility of human intervention.
#6— Disclose intent
Notify candidates that AI will be used to analyze responses and explain how AI works (e.g. the measured constructs/features, e.g. through a privacy note). Obtain consent to be assessed by AI where and when required, and provide an alternative assessment to those who do not provide consent.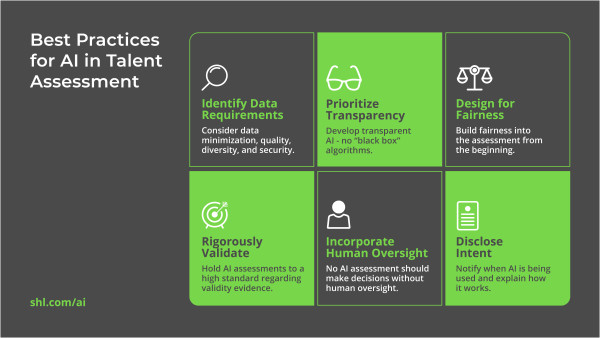 Read more about the best practices and how they were established in our whitepaper "The Ethical and Effective use of Artificial Intelligence to Assess Talent".
To learn more about SHL's powerful science-backed, machine-learning driven tools, please get in touch.