What Does the Current Job Market Look Like for Remote Workers?
Our analysis reveals the top industries and locations that are hiring for remote jobs, and how much can be earned from them.
The new work-from-home initiative was triggered by the global coronavirus lockdown and has undoubtedly caused a shift in the way we think about our work environment.
With over half of all employed Americans at one point working from home during the lockdown period and 65% of them admitting to working more productively because of it[1], remote working is likely to become a consideration for many in future job searches.
More employers may also start to transition workers out of brick and mortar offices; as we noted in a previous blog, Gartner reports that 74% of companies are now considering moving more employees to remote working after the COVID-19 crisis has fully ended. But what does the job market look like at the moment for potential remote workers?
SHL commissioned a study into remote working positions advertised around the world and the industries, locations, and salaries associated with them. Here's what we discovered…
Our analysis reveals the top industries and locations that are hiring for remote jobs, and how much can be earned from them.
Which jobs and industries advertise for fully remote positions?

Our analysis of remote job ads found that 91% of translation job posts advertised globally requested remote workers. If you don't already speak a second language, we explored the ways you can learn at home for free in our blog.




Call center and telemarketing jobs rank in second and third place on our list, with 84% and 73% of job advertisements in those industries respectively looking for fully remote workers. But which job titles are more likely to be remote?
81% of job postings for the title call center representative are fully remote, followed by speech-language pathologist (77.3%). Sales and customer service roles appear several times in our top ten rankings, as well as administrators and engineers.


Which global locations advertise more remote work positions?

Our analysis showed that there are 17.4 remote jobs advertised in Ottawa per 100k people in the city. That's a higher proportion than any other city in our analysis. Zurich and Dublin also feature highly in our ranking.




We wanted to find out how the remote working market in each country in our analysis compared to its national unemployment levels after many countries saw huge spikes in people losing their jobs during the lockdown. We discovered that Ireland has 342 remote working job posts for every 100k residents without jobs – that's more than any other country. The US and the UK come in second and third place, respectively.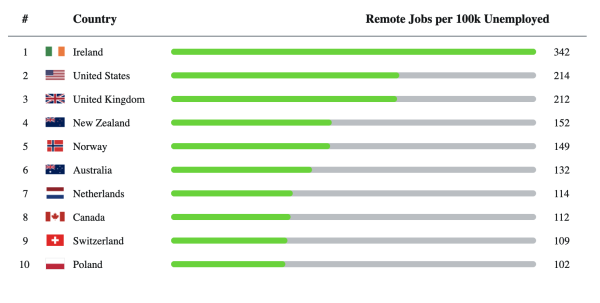 Our research revealed that for every 100k of the working-age population in the United States, there are 19 remote job posts. Ireland and the UK also appear higher in this ranking.



Which US locations advertise more remote work positions?

Those looking for remote work will fare well when searching for jobs in Nebraska. There are 321.8 remote work job posts in Nebraska per 100k of the state's population. Kansas (312.7) and Rhode Island (301.4) rank second and third in our list respectively.
We also found that there are more remote working positions advertised in Salt Lake City, Utah (234.3) per 100k residents than any other city in the US. A previous study[2] found that the city ranks highly on metrics such as Wi-Fi speed and shared workspaces – factors that are essential for effective remote working.




The highest-paying remote jobs can be found advertised in San Francisco. We discovered that the average salary there for remote jobs is $113,315 – over one and a half times the average salary in the area ($69,700, which also happens to be the second-highest average salary of any US city[3]).




Which UK locations advertise more remote work positions?

Our LinkedIn analysis showed that there are 210.3 remote work positions advertised in Manchester for every 100k of the city's population. Birmingham and Cambridge rank in second and third place.


We've found that remote working jobs in the London area pay the highest salaries. The average salary for a remote working position in London is $70,816 (£56,653), which is $20,495 higher than what the average job pays in the UK capital. There are also 20.9 remote positions advertised per 100k Londoners.


There's no doubt that remote working has entered the public consciousness more over the past few months. While some may be anxious to get back to the office, successful work-from-home initiatives have made many employees and businesses reconsider their preferences and policies. Whatever your optimal working environment, it's always useful to know about the job market that could be waiting for you if you decide to make a permanent switch.
Learn more about how SHL helps individuals and organizations succeed in this new remote work environment.
Methodology
We used LinkedIn to find the total number of remote jobs available in every country, state, and city included in our analysis. FlexJobs was used to find the industries and jobs associated with remote work, and Adzuna to find average salary data.
World Population Review was used to gather the most recent total population figures for countries, states, and cities. The number of unemployed people in each country, city, and state, was sourced from the OECD and Bureau of Labor Statistics data (retrieved May 2020) and Trading Economics. The working-age population of different countries was sourced from the OECD, and supplementary data was taken from FRED (Federal Reserve Economic Data) and the US Census Bureau.
References
[1] Zapier study
https://zapier.com/blog/wfh-report/
[2] Overheard on Conference Calls study
https://overheardonconferencecalls.com/business/best-cities-remote-work/
[3] CNBC
https://www.cnbc.com/2019/04/09/us-news-the-10-us-cities-with-the-highest-average-salaries.html