A Holistic Succession Management Plan: Making Leadership Supply Meet the Demand
Rethink your talent management to survive and thrive as an organization in the future and learn how to build a holistic succession management plan in this blog.
Many organizations still rely heavily on traditional leadership development programs and/or manager nominations to inform their leadership pipeline. Despite the commonality, traditional methods like these overlook the weight of the factors that make succession management successful, especially when the future of work seems to hit a shifting target. Failing to reimagine your talent management is a major threat to securing your organization's future as the skill gap is widening every day.
Two major factors will continue to stretch this gap for your organization even further:
Skills you need to grow your business will continue to evolve quicker than you develop those skills.


The talent you need is in high demand, and they know it.
It is not a surprise that new terms like The Great Resignation are now trending. It is the era of talent leading the conversation, not the employers. This implies the critical shift in the power dynamic, and senior management should get their heads around it for succession management to be fruitful.
Building succession management strategies starts from a holistic talent management plan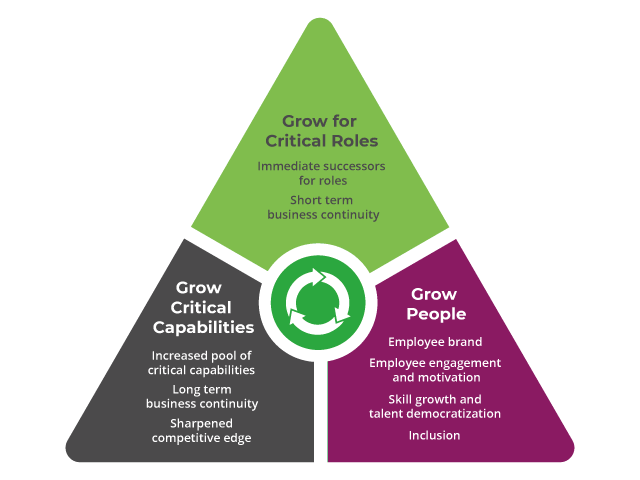 First, let's talk about how talent management should look. The above diagram facilitates a discussion on holistic talent management:
The top of the triangle is about managing the demand of talent;
The bottom is about managing the supply of talent that needs to feed into the changing landscape.
It is no longer sufficient to manage the pipeline for senior leadership and business' critical roles only. This can be crucial for short-term business continuity, but it does not contribute to long-term competitiveness. Just like the supply chain crisis is driven by demand, our "just-in-time" production model—limiting resources to only meet the demand of today—has not been sustainable in the current climate. With sudden changes in a business context and/ or strategy, organizations are left with an unmatched supply-demand ratio.
The success factors of succession management
To build a successful succession management plan, a combination of all three corners of the above figure is needed: people, critical capabilities, and critical roles. Talent and leadership programs that focus on all three areas will have a chance to create an organization that survives and thrives in the future.
Research by Gartner (2021 HR Priorities Survey) shows that 79% of the existing roles are disappearing and 44% of the organizations are restructuring. While major transformation is happening, it is difficult to even decide on the critical roles (for the top of the triangle), let alone build a healthy pipeline for it! However, when organizations fully commit to the growth of critical capabilities and people themselves, they would have a much better chance to manage a healthy talent supply that is sustainable in a VUCA world.
What needs to happen is a combination of all three corners of the figure above: people, critical capabilities, and critical roles. Talent and leadership programs that focus on all three areas will have a chance to create an organization that survives and thrives in the future.
Obstacles to succession management
Let's face it, there are plenty of obstacles on the way—from the mindset of leaders who often think they can spot potential when they see it, HR leaders that look for a continuation of existing processes rather than a necessary transformation, to a culture that reinforces a certain way of doing things which act as a barrier to how we engage, develop, and mobilize our talent.
With all these challenges, where do you start?
Leaders need to change their mindset using the following advice:
Potential is only useful when they are nourished, stretched, and aligned. Are you actively looking for opportunities to maximize the potential of your team?
Any talent within your team is not your talent but it is the organizations'. How can you best utilize them across the company?
Your success as a leadership team is collective and your behaviors create mental models for the rest of the team.

How can HR support this shift in mindset?
Hold leaders accountable for their contribution to retain, stretch, develop, and mobilize the biggest company asset—people.


Support leaders and the business with objective and scientific data on the potential of your people and your talent pipeline. Share with them relevant people data that is timely and effective.


Create systemic and networked groups/ communities that are autonomous and can act as a support mechanism:
To discuss the organization's talent needs for today and the future,
To reflect and practice on leadership style and responses (from acute to long term),
To think about growth and continuous learning opportunities for leadership as well as the teams.
This case study shows how FSCS used its people data to drive an inspiring, holistic talent management plan. In their testimonial, their Chief People Officer said:
"Previously, we might have sent people on an external leadership course with no visible return on investment; we can now be so much more targeted about the specific leadership competencies we need to develop in each individual and build this into their day-to-day work. The assessment data has been so valuable to get managers to put personal development and growth at the center of conversations with their people. Previously, one-to-ones were all focused on tasks, now conversations are much richer, and individuals are more in control of their own development."
The program not only helped them in their growth, but the data-driven approach also helped increase female representation in their Executive Team to 57%, exceeding the 50% target they originally set to achieve by 2022.
You see, the change is possible. You just need to take a step and see things holistically. Only then can you make your leadership supply meet the leadership demand in this uncertain world.
Talk to us to explore how we can support your organization in your journey.