4 Capabilities Every Talent Acquisition Leader Should Prioritize Today
As jobs, business agenda, and talent needs constantly shift, expectations for talent acquisition leaders also continues to evolve. What capabilities are needed to succeed in today's world of continual change?
As the business owner of SHL's Volume Hiring solutions, I have the unique privilege of working closely with our customers around the world. I help design and support talent selection programs for some of the world's largest and most influential organizations! Through the eyes of our customers, I learn firsthand about emerging priorities and aspirations, as well as challenges and obstacles facing talent acquisition today. And so I often get asked, what does a best-in-class talent selection function look like?
I believe there are 4 fundamental capabilities that talent acquisition leaders should be prioritizing: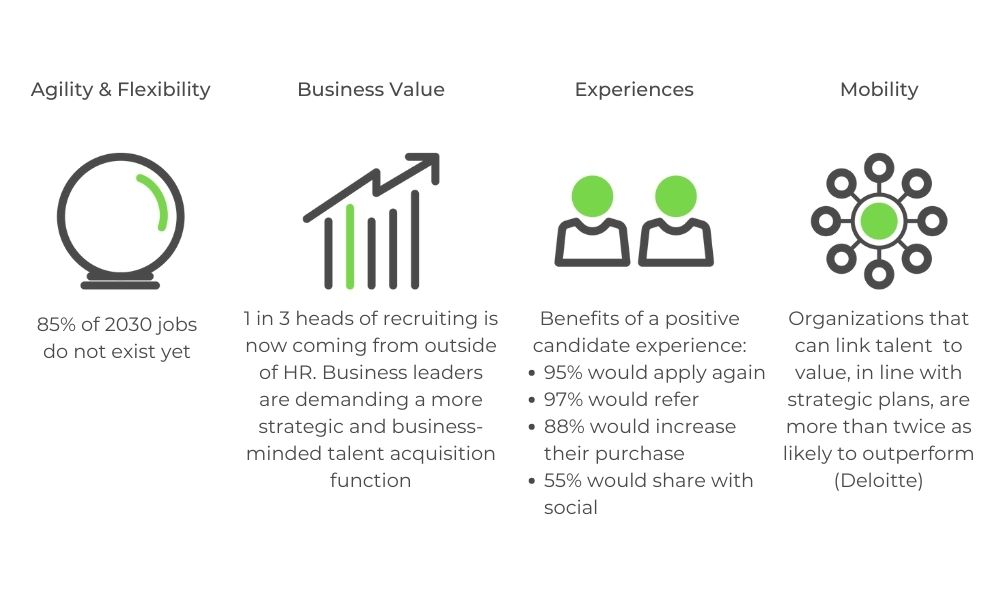 Agility and Flexibility
With people and talent at the heart of the business agenda and jobs in a state of constant change, expectations are high for talent acquisition and HR leaders to be nimble with strategies that are constantly evolving. A flexible and programmatic mindset is required, with technology, process, and vendor relationships that are designed for change.
The fields of software product development and project management offer an effective roadmap for talent acquisition leaders with the introduction of Agile. The Agile methodology, which breaks down large projects into actionable pieces and produces incremental and iterative work cycles has fueled speed and efficiency while also increasing quality. Considering these are the same fundamental outcomes on which talent acquisition functions are most focused, building a relationship with your head of Product/Engineering to explore Agile principles and their applicability to talent acquisition can be an effective first step.
I have witnessed some powerful results working with SHL customers that have embedded Agile methodologies:
Increased focus, commitment, and consensus on the top recruiting priorities as measured by business value
Greater transparency and much better relationships with hiring managers and business leaders
Greater commitment to constant improvement with less defense of the status quo
Delivering business value, not just candidates
The need for strategic influencers within talent acquisition has outpaced the demand for operations-minded leaders. Contrary to popular belief, digital transformation is less about technology and more about people. You can buy any technology, but your ability to adapt to an even more digital future depends on developing the next generation of skills, closing the gap between talent supply and demand, and future-proofing your own and others' potential. Digital transformation is squarely on the desk of the head of talent acquisition and never has the need been greater for the talent acquisition function to demonstrate its strategic alignment to pressing business priorities.
The most important tool in your toolkit to demonstrate this level of strategic alignment is data. While hiring programs have always produced important transactional data (funnel metrics, conversion rates, etc), focus more on the advanced KPIs and longitudinal analysis that demonstrates the transformational shifts your business requires. Work with your vendor partners, especially your assessment partners, to ensure hiring tools are enabling and driving your business transformation. Also, ensure they are packaging data and insights that help you represent your strategic contribution.
Contrary to popular belief, digital transformation is less about technology and more about people.

Experiences
We tend to focus on the candidate experience, which makes sense given great candidates are scarce, but the focus should also be placed on the recruiter and hiring manager experience. Tools and processes that repair and strengthen the often-fragile relationship between recruiter and hiring manager are critical. A good place to start is by ensuring that you design intuitive workflows and leverage flexible technologies to automate the assessment, interview, and selection process, giving more time to recruiters to focus on higher-value activities and create intimate business alignment. With technology and process in place, a culture that prioritizes communication and trust will take you far in building a results-oriented relationship with business stakeholders.
Given the current labor market challenges, prioritizing candidate experiences that help you expand your talent pool can also be effective. Accepting that a narrow focus on skills and previous experience or academic credentials might only offer a short-term solution can be difficult. Instead, focus on a candidate experience strategy that helps you reach out and broaden your talent pool, focusing on what candidates can do rather than what they have done. The use of high-quality, candidate-centric assessments can be a very effective tool in evaluating new and different candidates as you endeavor to broaden your reach.
Talent Mobility
The silos between talent acquisition and talent management need to come down, and you want to be seen as an agent of change that is driving this important strategic alignment. The easy starting point is ensuring you are actively communicating new opportunities to existing employees and creating a culture that values and supports the internal movement. But our more sophisticated clients are embedding talent mobility even more intentionally as part of their internal and external hiring efforts, going so far as to map out and document insights gained during the candidate selection process so that they can be actioned on-demand as part of mobility and succession decisions in the future. Creating an inventory of skills and competency strengths that can easily be applied to future roles is a good starting point. Furthermore, building and deploying talent assessment programs that can re-score objective data captured during the recruiting effort against multiple future role profiles and succession planning efforts can be a very effective strategy to enhance the alignment of your talent acquisition and talent management efforts.
Talent acquisition is hard! My hope is that by embracing some of these foundational principles you find it a bit easier to advance your talent acquisition priorities and your overall talent acquisition capability. And if it would be helpful to have a conversation about your unique circumstance, or your interest in designing an assessment program that instills these four principles, please reach out to me at Andrew.nelesen@shl.com.

Do you need help to hire faster and smarter? Check out our SHL Volume Hiring solution and book a demo with us today!