How Metaverse Changes the Approach to Human Potential Identification
Learn how Metaverse will shape the future of hiring and human development by creating a more connected, collaborative, and immersive experience for candidates and employees.
In his futuristic tale, James Cameron created "Avatar", a creature operated from "Human Intelligence" of a remotely located body, to explore Pandora's Biosphere. While this idea looked farfetched in 2009, in 2022 this has become a reality in the form of "Metaverse"—it is a space in which the real world, the virtual world, augmented reality, and the internet come together.
This reality was also established by the Ministry of Education & Skill Development Tableau during the 73rd Republic Day celebration in India, "From Vedas to Metaverse". The tableau highlighted how India's National Education Policy (NEP) 2020 is bridging the past with the present and creating a new future embracing technology in the Indian education system. NEP'20 provides an important opportunity to move Indian education from "sorting and selection" to "human development", enabling every student to develop to their maximum potential.
With India's Education system now focusing on "Human Development", it would be interesting to observe how organizations are rolling up their sleeves for the challenge to develop human potential in the "Age of Metaverse". With my experience of collaborating with organizations to deliver talent potential identification or assessment strategies, I am keen to understand how Metaverse shapes the new era of work and human development.
Assessment in metaverse
The pandemic has accelerated trends toward digitization and automation. Therefore, it is likely only a matter of "when" Metaverse is also adopted across different aspects of the Organization and Employee Life Cycle. Today hiring and retaining the best talent are pivotal, hence delivering great employee and candidate experiences across recruitment, experiential learning, and talent development with speed, accuracy, and personalization is a must for organizations.
With the mainstream introduction of Metaverse, organizations are now adopting innovative ways to find the right candidates via virtual assessment centers, where candidates connect through personalized Avatars showcasing their creativity. By harnessing the science of "presence", you can create a more connected, collaborative, and immersive experience for candidates with an Avatar of an assessor or interviewer. This could also provide an opportunity to engage with diverse candidates by an interactive discussion, supporting the hiring of inclusive workforces, especially those with reading or writing difficulties.
Amidst real-world simulations built around human reasoning, Metaverse could also assist in the identification of best-suited candidates by using skills or role-specific scenarios in a fair and scalable manner. By providing live human interaction experience to solve scenarios, it could measure important futuristic skills, like working together with a diverse workforce. This virtual world, focused on social interaction, also enables candidates to get live feedback on demonstrated behaviors, providing agile learning experiences and better engagement.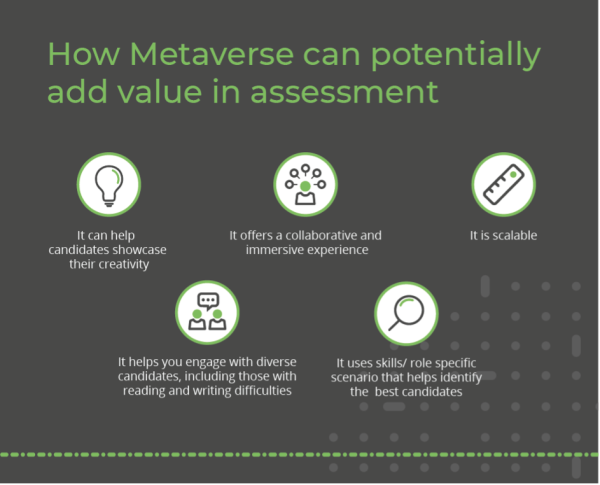 Will we see hiring in metaverse in the near future?
The immersive experience provided by selecting the right candidates using "real work" situations, capitalizes on proven best practices for behavioral learning and improving engagement, which supports the challenge of maximizing "human potential". Therefore, organizations must utilize Metaverse as a scalable tool for elevating the human element in the new era of work as it could be deployed even for remotely present employees.
With heightened adaptability amongst employees and organizations owing to the pandemic, this new era of Metaverse would most likely be smoothly embraced by many, as it helps provide employees and candidates alike better opportunities for selection, development, and engagement.
Book a demo to our Virtual Assessment and Development Centers and get ready to accurately identify your candidates' potential in an immersive experience!