Hiring Software Developers for Job Readiness, Potential, and Fit
5 ways technical hiring teams can stay ahead and quickly respond to shifting strategies of 2023 and beyond.
Talent leaders believe that volatility is the new normal— 95% expect it to be difficult to forecast their needs over the next two years. Technical hiring teams are being faced with persistent talent shortages and a rapidly shifting set of skills required for tech talent. So, how can teams stay ahead?
Understand the technical talent shortage
Lock in long-lasting technical skills
Assess for readiness to hire developers that will quickly add productivity
Measure potential for long-term success
Identify fit for the role during the hiring process
1. Understand the technical talent shortage
One might think that hiring software engineers has become easier as layoffs at large technology firms hit the headlines. Yet the data suggests that those layoffs have had a very minor impact on software engineers. Technical hiring teams will see talent shortage continue in major markets and for in-demand roles, like Full Stack Developers.
United States: The US Bureau of Labor Statistics anticipates that the number of open roles for software engineers will grow 25% from 2021 to 2031 and IDC predicts a shortfall of four million developers by 2025.


India: Estimates indicate that India added 1.8 million new graduates to its developer workforce in 2022, job placement rates are high at 93.5%, and 32% of developers reported switching jobs within the last year.
Smaller markets, such as Australia are also feeling the strain. Tech salaries are estimated to have jumped 20% per year and Australia will need 1 million people in tech jobs by 2025, meaning around 260,000 more people will need to enter the tech workforce before that time.

2. Lock in long-lasting technical skills
Technical hiring teams will also need to respond to changes in technical skills needed for success as software engineers. Back in 2018, Dell predicted that 85% of jobs that exist in 2030 had not yet been invented. LinkedIn recently reported that 30% of software engineering skills emerged or fell out of favor between 2015 and 2022 in the United States.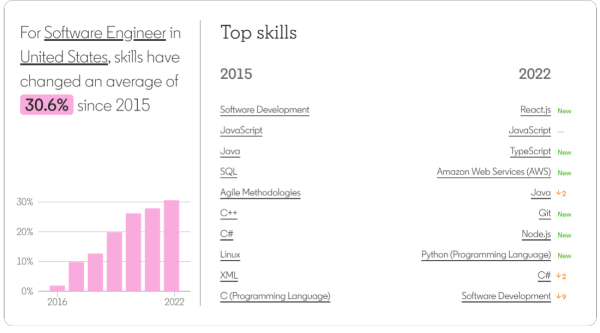 Technical hiring teams cannot stop and re-assess their assessment and interview tech stack every time skills shift. They need to be ready with relevant evaluation platforms on-demand.
3. Assess for readiness and hire developers that will quickly add productivity
Readiness refers to the ability to quickly contribute to projects and increase bandwidth on the team. In the hiring process, this is commonly assessed with a coding skills test or simulation. Candidates ranging from Junior Software Engineers, Full Stack Developers, Front-end Developers, and Data Engineers will need to demonstrate their ability to work within the hiring company's tech stack from day one.

In Junior Software Engineering roles, what defines readiness is relatively clear and it is a top priority. Candidates will need to be able to:
Use programming best practices
Demonstrate general programming problem solving
Work with data structures and algorithms
Implement optimization algorithms
Debug code
Code in specific languages like Python

Readiness will be different for senior and specialized roles. It is likely that an experienced candidate for a DevOps role will have the skills listed above and it is not necessary to assess them. The role is more likely to require specific knowledge such as AWS services or disaster recovery. These can be easily assessed with a multiple-choice question, a DevOps-specific coding simulation, and in the technical interview.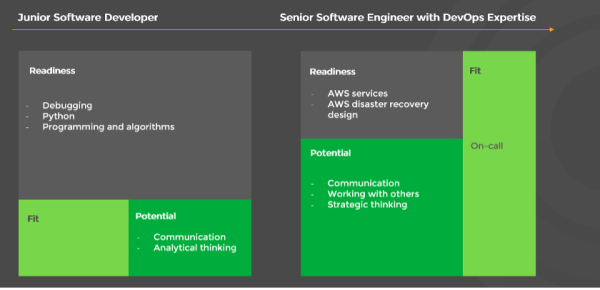 Readiness is a critical hiring signal for technical roles. Be sure your assessment provider offers advanced proctoring and plagiarism detection to reduce the risk of false positives. Chatbots, such as ChatGPT, have emphasized the need for this feature. Automated proctoring should include the ability to block behaviors like browser toggling and copy/paste, record key actions like multiple line insertions and long session pauses, and identify plagiarized code.
4. Measure potential for long-term success
Whilst technical skills indicate readiness to add productivity from day one, potential refers to the behaviors that will contribute to future success and indicates a developer's ability to not only grow within the company but adapt as the technology landscape shifts.

In our example of a DevOps engineer, there is a significant amount of responsibility and inherent risk. DevOps impacts both infrastructure and security within an organization. This person will need to be:
A strong communicator
Confident and capable of working with others
A strategic thinker
Behavioral interviews are often the primary way teams identify these soft skills. However, these interviews are plagued by inconsistency and are susceptible to producing biased outcomes. A consistent approach includes validated soft skills assessments that lead to an interview guide for hiring teams.
5. Identify fit for the role during the hiring process
Fit: How well a candidate is suited to the company culture and job

Fit is always an important layer to both readiness and potential. It is a two-way indicator of the ability to succeed on the job and happiness in the role. There are both tactical elements, like the willingness and ability to be on call, as well as cultural factors such as an interest in the company's mission and purpose.

Software Engineers will benefit from hearing from the hiring team in the assessment and interview process. They prefer to get a sneak peek into what projects the company is pushing forward and the team members they may work with. This can be on-demand or in an interview.
Because fit is a two-way indicator, teams need to communicate the realities and opportunities of the job, and candidates in turn need to be able to determine if those are right for them.
Because readiness is such a critical hiring signal for technical roles, be sure that your assessment provider offers advanced proctoring and plagiarism detection to reduce the risk of false positives.
Getting started
Every role and every candidate is different. No single assessment or interview will be sufficient for hiring software developers right for today and tomorrow. Technical hiring teams will need to assess for the perfect balance of long-term potential, readiness to do the job today, and fit for the role and culture. These are critical to optimize chances of success.

As software engineering roles continue to change, so will the mix of evaluation criteria. Consider the following to ensure you can quickly respond to shifting strategies:
Evaluate your assessment and interview tech stack for the ability to measure hard skills accurately. Ask: Is the proctoring and plagiarism detection sufficient? Do I have the assessments needed for a variety of roles? Is my technical hiring team getting enough signals from assessment reports?
Discuss the importance of soft skills with your team. While readiness is the primary determining factor for hiring a software engineer, it isn't the full picture. Many teams evaluate soft skills such as adapting to change to determine the likelihood of long-term success.
Review the presence of the employer brand in your hiring process. Software engineers in particular want to get to know the team early and understand the mission and purpose behind what they are building. If possible, give them a preview of the types of projects they will be working on.
Don't forget to be clear about some of the requirements of the job, like on-call schedules. This will help candidates understand if they are fit for the role.

Partner with SHL to achieve the perfect balance of potential, readiness, and fit in your technical talent acquisition strategy.