On average, about 1/3 of our lives is spent at work, meaning that our jobs greatly impact our quality of life. Over the past year, we have experience one of the greatest crises in the workplace history. However, despite that, the crisis also brings a new meaning to our workplace— an opportunity for us to reimagine our organizations
To rebuild your organization to better prepare for any unpredictable changes in the future, you need to look through four aspects that make up an organization:
Design
Culture and experience
Learning and growth
Leadership
This paper will delve into each of the key aspects of organizations above and discuss the practical steps that you can take in your roadmap towards a future-proof organization. For organizations' leaders and HR, the insights from this paper can be used as a guidance to remodel the workplace, by keeping the "must-haves" and ditching the redundant.
Discover our further top strategies on how to establish consistent processes in future-proofing your organization.
Download Report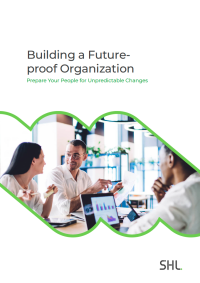 Download the report to learn more about how you can future-proof your organization so your people are prepared for unpredictable changes.
Dive Deeper into Future-proofing Your Organization
If you are interested in diving deeper into how to create a future-proof organization, check out these infographics and podcasts where our team of global experts discusses practical ways to help your business thrive because your people thrive.
Find Out More
Experience the greatest business outcomes possible with SHL's products, insights, experiences, and services.
Contact Us
Explore SHL's Wide Range of Solutions
With our platform of pre-configured talent acquisition and talent management solutions, maximize the potential of your company's greatest asset—your people.