6 Key Things to Consider for Hiring in a Hybrid World
As ways of working and expectations shift in the hybrid world, organizations need to think about talent acquisition differently. Learn what you need to focus on in your hiring strategy.
In this first part of the blog series, I talked about how organizations can manage their workforce and adjust their talent management strategy in the wake of the hybrid era taking over the world of work. In this second blog, I will focus more on how employee expectations and work dynamics have changed in the past two years, and how organizations can reshape their hiring strategy in the hybrid world for generations to come.

We are witnessing the biggest evolution in the workplace in decades as the pandemic turned long-established features of work and life upside down. In many ways, our shared experiences served to accelerate changes already underway, and we now have a great opportunity to enhance work experiences for generations to come. As the fundamentals of work — time, place, tools — are being reset, we are also reconsidering our priorities as individuals. These new and changing dynamics create risks and opportunities for those focused on hiring and onboarding new employees in a hybrid world.
New work foundations
A fundamental change is the power shift from employer to employee. The 'Great Resignation' has illustrated that people want more from their work than money and status and that individuals now have much more choices. Many knowledge-based workers can work from anywhere, anytime and they are seeking opportunities to enable flexibility in their lives, rather than the other way around, through remote working.

Co-creation and collaborative work are now an everyday feature for knowledge workers, as work is digitized and completed in real-time on shared documents and via instant collaboration tools. For many, the purpose of going to the office is now more for socialization and networking rather than productivity. Organizations are also becoming increasingly flatter and more dispersed—with teams working across time zones, and geographies fueled by connectivity, real-time information, and digital solutions. Critical skills are no longer linked just to roles, meaning that leaders need to mobilize talent based on their skills and potential to grow.

Objectively understanding people and collating employee data to power organizational agility and evolution has become non-negotiable for organizations. For employees, new foundations open new possibilities as everything can be learned and everyone has potential.
New work dynamics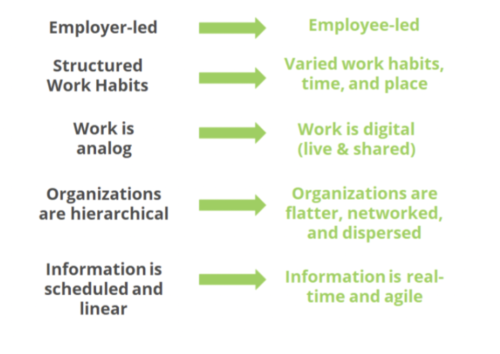 Employee expectations evolve
Uncertainty, ambiguity, and disruption continue to be key features in our lives today onward. The pandemic gave us all a new lens on these aspects, with individualized experiences and consequences to manage. Collectively, we all experienced trauma to differing degrees, but certainly, emotions of concern and anxiety, if not grief and sadness. Imposed lockdowns, loss of social contact, rationed resources, and for many, a first glimpse into 'survival instinct' took its toll, and labels such as "Covid blues" and "languishing", started to emerge to help us understand the feelings we were experiencing. A Randstad survey in 2021, reported 45% of individuals are burning out as they seek more sustainable and meaningful work.
The 'Great Resignation' has illustrated that people want more from their work than money and status.
Hiring in a hybrid world
Considering the changes in the work dynamics and expectations, organizations need to focus on purposeful work, flexibility, and positive work culture to make themselves irresistible to candidates. Moreover, here are some key things to consider for those focused on talent acquisition:

We have seen an evolution in today's hybrid workplaces. Now it is the time for organizations to embrace objectivity, empowerment, and personalized, authentic connection in the hiring process—because if you don't, candidates will find someone who does.

For more insights into how to successfully adapt to and sustain work in a hybrid world, download our latest report.