Remote Work Is Here to Stay. Are Your Leaders Ready?
How can leaders understand the potential and digital readiness of their people in today's world of work? Learn about two models to help leaders succeed in a remote work environment.
The workplace is more digital and virtual than ever. Between 2019 and 2021, the US Census Bureau reported that the number of people working primarily from home tripled from 9 million (5.7% of the workforce) to 27.6 million (17.9% of the workforce).

However, recently, we have started to see major companies like Amazon, Meta, and Twitter push for employees to come back to the office. While headlines may be pointing to a return to the old ways of working, data show that office spaces remain unoccupied at much higher levels than before the pandemic. Further, research shows that remote work continues to be in high demand in the talent marketplace. A recent report by LinkedIn shows that remote job postings have increased by 15%, but applications for remote roles have increased by 50%. This indicates that while many roles remain unfilled in the market, workers are competing for jobs with companies offering remote opportunities!

Leaders today navigate more time zones, work with more geographically dispersed teams, and manage more autonomous teams than ever before. The shift to a more digital and virtual environment has significantly impacted the leadership environment, and many organizations continue to struggle with leadership in a remote workplace. So, as leaders continue to navigate the virtual world of work, what resources are available to them? How can leaders understand the potential and readiness of their people to work remotely?
Here, I present two evidence-based solutions, both backed by SHL's validated Universal Competency Framework, to help leaders navigate the remote work environment.

Digital Readiness
In the digital economy, work is far less structured and predictable and far more collaborative and customer-centric. From working with hundreds of organizations and millions of employees these companies are looking to attract, retain, and manage in high-change, digital environments, SHL has identified four primary competencies that drive digital readiness: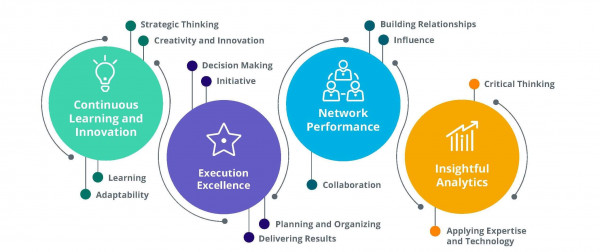 Continuous Learning & Innovation: The rapid pace of change associated with digital business environments and transformations requires employees and leaders who can adapt, learn effectively, and innovate to drive their organizations forward.
Executing Excellence: The pressure for sustained top-line and bottom-line financial growth of digital businesses requires employees and leaders who are action-oriented, decisive, pragmatic, and efficient in achieving their performance goals and objectives.
Network Performance: The increased interdependence of work and a stronger emphasis on the customer experience in digital business environments requires employees who can develop productive relationships, collaborate, and influence others to boost the performance of their colleagues and customers.
Insightful Analytics: The explosion of new digital tools and the exponential growth of data and information requires employees who can apply their analytical and reasoning skills to effectively use those tools and data to create insights that produce results in a wide range of contexts.
Using SHL's Digital Readiness assessment, leaders can measure the digital proficiency of their teams to understand strengths and gaps at individual and organizational levels and leverage objective, insight-based recommendations to drive talent decisions, process improvements, and engage in targeted individual development.
RemoteWorkQ
The RemoteWorkQ model provides a framework for identifying and measuring behavioral tendencies important to performing effectively in remote work environments. The model includes three primary competency areas: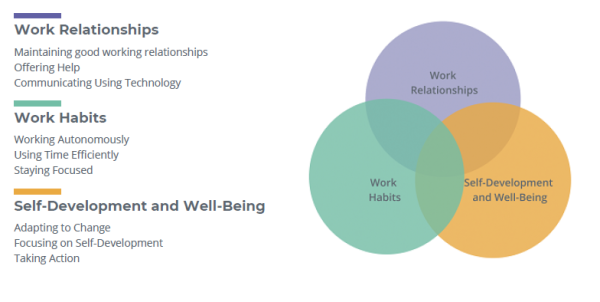 Work Relationships: A sense of isolation is common for remote workers, which can reduce work motivation. Establishing social connections, maintaining open communication, and building strong cooperative working relationships can overcome feelings of social isolation in a remote work environment to enable high performance.
Work Habits: Many remote workers are even more productive than those working in offices. Working independently, managing time efficiently, and staying focused on tasks are critical skills to remain productive in a remote work environment.
Self-Development & Well-Being: Engagement is increased when workers have opportunities to learn new skills and use those skills to meet challenging goals. Being flexible, and willing to take
initiative, and looking for opportunities to improve performance are important capabilities to thrive in a remote work environment.
Using SHL's RemoteWorkQ assessment, leaders can use this framework to select employees based on the potential for working in a remote environment or develop current employees to be more successful in remote environments by providing insights and individualized coaching tips about how to leverage strengths to overcome risks.

Candidate and employee demand for remote work remain at an all-time high. Further, studies of manager behavior also demonstrate a preference for remote or flexible working locations. Together, these data indicate that remote work is here to stay. While some companies continue to resist, those who adapt and prepare their leaders and workforce to thrive in a virtual workplace will win to attract and retain the best talent in the marketplace. Implementing tools and development aligned to models like SHL's Digital Readiness and RemoteWorkQ helps organizations and managers lead with confidence in a virtual world.
Are you ready to improve your effectiveness to select the best talent and grow your organization with a virtual workforce? Contact us today to learn more about how SHL can help you lead in a remote world.
Read How SHL Helped the Global Tourism Leader
Costa Crociere Group

Transition to Remote Work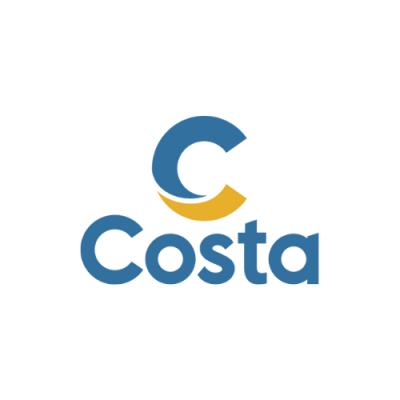 SHL is more than a provider. It's an essential partner for our HR processes and strategy, from recruiting to development.
Sara Bottaro
Shoreside HR Director
Costa Crociere