Dive into Greatness—How to Create Seamless Candidate Experiences
How SHL's recruitment team enhanced their hiring process to accommodate the unique issues brought on by the COVID pandemic.
In the last four months—as global markets panicked and economic activity stopped in many sectors, hiring slowed or froze in many companies. Along with it came the new challenge for how to run the recruitment process and provide a unique and seamless experience with meaningful connections to entice top talent to join your company.
HR and brand employer professionals are well acquainted with the values of candidate experience—it does not just reflect the true perspectives of one's organization but also the kind of culture cultivated from within. In this time of uncertainty, it is extremely important that organizations deliver a clear and strong message to candidates so that they trust them as a future employer. This requires calibration during the recruitment process and gives recruiters the opportunity to develop a more thoughtful, engaging, empathic, and transparent process that will remain valuable and ethical even after the pandemic crisis.
Here are SHL recruitment team's top approaches to enhance and manage our candidate experience during COVID 19:
#1—Focus on Transparent Communication
Regular and transparent communication plays a vital role in providing a positive candidate experience. We as an organization focus on how to engage our candidates with our company—from providing them with relevant information regarding all the stages of the recruitment process to addressing their anxieties and delivering a positive experience. In addition, we have primary spots where candidates can interact with us, including SHL's career site and LinkedIn. Frequent and transparent communication helps to keep candidates in the loop and provide them with reassurance.
Regular and transparent communication plays a vital role in providing a positive candidate experience.
#2—Emphasize Human Touch
It is very important to provide that "larger than life" experience for your candidates during this pandemic. Therefore, it's time to leverage communication tools like personalized and automated emails from Workday. LinkedIn is another great platform to interact with potential candidates. Our team consistently posts about opportunities, our culture, and the current products of SHL. The bottom line is that recruiters need to boost their levels of empathy and understand that candidates are also going through a tough time. Being more flexible will help to deliver a positive candidate experience.
#3—Lead with Empathy
Empathy is at the center of our recruitment process, just because we are making every process virtual doesn't mean that we cannot make their experience personal. As recruiters, we are in constant contact without candidates on all our platforms answering their all questions in every process (Screening to Onboarding) posting our regular content (Deep Insights of our Products) shows the true intent of connectivity to the candidates.
#4—Make New Hires Special
As an employer in turbulent times, understanding and connectivity are some of the most vital qualities. So, to make this "new normal" exciting to new hires, SHL has gone the extra mile to make it as personal. For example; our own internal IT team is actively leading by example; by interacting directly with the new hire and creating an IT welcome pack to their home ready for the first day.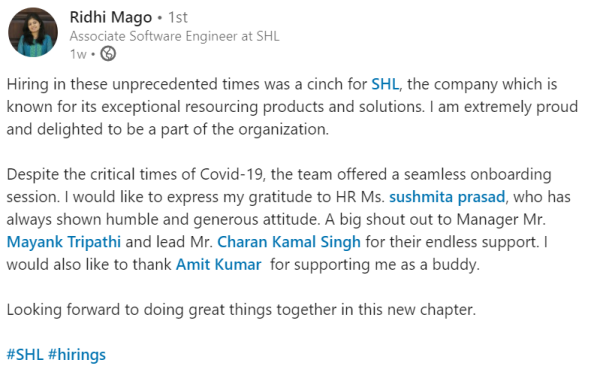 #5—Partner with Marketing
As a global team, we have been partnering closely with our PR and marketing teams to make sure that the messages we're publicizing about COVID-19 are being communicated consistently across different channels. Our organization's career social content is also focused on answering FAQ. Our team is constantly running social content that addresses pressing concerns so candidates can fully understand what to expect from us as an organization at this time.
#6—Bring Everything Together on One Platform
We leverage our social media channels to direct candidates right on the homepage of our brand-new career site, where they can have their questions quickly addressed by our team.
#7—Ensure Safe Virtual Onboarding
In our case, we have structured onboarding plans that the hiring manager uses for pre and post day one, the new hires receive the SHL 'Maximize your learning' Report ahead so both can optimize learning styles for onboarding, and receiving the IT welcome pack ahead of the first day.
By inculcating this approach, we successfully onboard all our new employees without a single drop out; in addition, our new hires follow up with kind feedback. Below is feedback from new hires who joined during this crisis — sharing their experiences on all our social media platforms which act as a catalyst to go to extra mile to deliver a tailored and personal experience to candidates.
To learn more about a career at SHL, please visit our Careers page.