Guidebook
The Ultimate Guide to Your DEI Strategy
A Holistic Approach on People, Process, and Technology
For DEI efforts to be successful, there needs to be a holistic approach including three important aspects: people, process, and technology. Check out our comprehensive guide on how you can revolutionize your people, process, and technology on your journey towards an inclusive future.
DEI Best Practices
A holistic approach to the triangle of people, process, and technology is crucial in DEI initiatives. In this guidebook, we will guide you through each step of building an integrated DEI strategy—starting from what each DEI term means, why DEI efforts often fail, to a troubleshooting guide.
Download Our Guidebook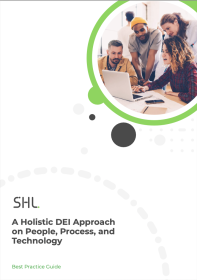 Download
Make Transformation Possible for Your People
Experience the greatest business outcomes possible with SHL's products, insights, experiences, and services.
Explore SHL's Wide Range of Solutions
With our platform of pre-configured talent acquisition and talent management solutions, maximize the potential of your company's greatest asset—your people.