eBook
Creating Successful Leaders
Switch Up Your Leadership Strategies
Supported by the most comprehensive leadership study of this century, our innovative new Leader Edge Solution objectively measures a leader's attributes and experiences against the challenges they will need to overcome. This enables you to predict whether your leaders will succeed (or not) with up to 3x more certainty, driving lower risk succession management decisions.
Download our eBook, Creating Successful Leaders: The Biggest Missing Factor, to learn more about:
What matters most to making or breaking leaders' performance
The impact of context on leader success
The implications for HR and three key changes to drive stronger ROI from succession initiatives
Download eBook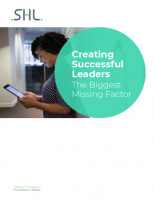 Download
Make Transformation Possible for Your People
Experience the greatest business outcomes possible with SHL's products, insights, experiences, and services.
Explore SHL's Wide Range of Solutions
With our platform of pre-configured talent acquisition and talent management solutions, maximize the potential of your company's greatest asset—your people.